---
FEBRUARY 2
Even the Kop's 'God'
couldn't influence the linesman

By Tony Barrett - Liverpool Echo

The Kop paid homage to Robbie Fowler as he made his emotional return to Anfield.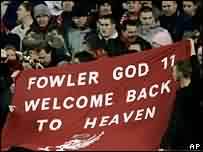 He was given a hero's welcome when he stepped on to the pitch for a warm-up, 35 minutes before kick-off yesterday.

In a flashback to the days of the great Billy Liddell, the Kop bellowed Fowler's name more times than that of their own team, such was their joy at the return of the man they call "god".

Pitchside announcer Phil Easton knew what he was up to when he read out the teams and left the man of the moment's name until last.

Kick-off came and went and most fans were keeping at least one eye on the Liverpool dug-out where Fowler was sat.

With a little less than half an hour on the clock Rafa Benitez ordered his substitutes to warm up.

That was the cue for Fowler to run along the touchline towards his beloved Kop, bringing the fans to their feet in salute.

As ever, the banners told their own story with "God has returned to the promised land" and "God back in heaven" being the particular stand-outs.

At 9.20pm Fowler was ordered to get changed by Benitez. The ground erupted.

While he was busy taking off his track-suit Steven Gerrard scored but, for once, he had to settle for being upstaged as it was Fowler's name that echoed around the stadium.

The roar when he sprinted on to the pitch - a little bit more rotund than we remember him and wearing the unfamiliar number eleven on his back - was as loud as anything heard at Anfield in recent times. Even some of the travelling Birmingham fans joined in with the applause.

The script was written. All Fowler had to do was score the goal which would bring a fitting conclusion to a modern day footballing fairy tale. Unfortunately, even "god" can't overrule a linesman's flag.

But even without a goal to his name at the final whistle, Fowler still left the pitch to another standing ovation.
---
FEBRUARY 2
Rafa ready to rotate Reds

TEAMtalk

Rafael Benitez will have to be a juggler and a gambler to keep Liverpool's exhausting season on course for success.

The home draw with 10-man Birmingham was Liverpool's 40th game of a season which started on July 13, and the Anfield boss admits he will need to take advantage of his large squad as 10 games in 36 days have to be negotiated.

Benitez is facing crunch time as the demands of the toughest season facing any of Europe's top sides looks to be starting to take its toll.

The Reds manager saw Xabi Alonso's embarrassing late own goal give Birmingham a priceless point, but he refuses to accept his squad are suffering from mental tiredness.

But, with a hectic schedule ahead, Benitez admits he must rotate his squad and gamble on the games he can rest players from.

He made six changes from the side which won in the FA Cup at Portsmouth, leaving Jamie Carragher on the bench while resting Mohamed Sissoko and Djibril Cisse from the squad entirely.

The big guns will be back for Chelsea on Sunday, but Benitez is fully aware it can even be dangerous to protect key players against the likes of relegation-threatened Birmingham.

"I do not think we are looking particularly tired, although I am trying to rest and change players," said Benitez.

"What was missing was a second goal from all the chances we had, everything else really is just excuses.

"We are not tired but we do need to play with more intensity and a higher tempo to establish a style for the game.

"The idea was to rest players, Sissoko and Carragher, because we were playing at home and I have a lot of confidence in the players that came into the side.

"I tried to give Carragher a rest. I used Alonso from the bench, but everybody will be used in the next few weeks. We have three away games now in a week and for sure Carragher and Alonso will be key players for us then.

"We have 10 games now in just over a month, that is the reason I decided to use other players against Birmingham.

"We will see now if we can rest more in the coming games, but we must be careful how we do it because all the games are hard."

Benitez gave new defender Daniel Agger his debut, and the youngster struggled occasionally against the aerial threat of Emile Heskey and Chris Sutton.

"Agger was nervous at the start, but he improved and used the ball well," said Benitez.

"But he needs time to get used to English football, playing against Heskey was difficult for him."

Even Robbie Fowler could not produce the miracle, despite a stunning overhead kick which flew past Maik Taylor late in the game.

It found the net but Fowler was correctly ruled offside just as the Kop were acclaiming their hero's return.

Benitez, though, was happy with the 30-year-old.

"When he is fit, really fit, he can give us so much extra around the danger areas," he said.

"We know he needs to improve his physical conditions, but the movement was good and we just needed to get into the gaps that appeared.

"He needs to be quicker, but he gives us a lot of things close to the box. But if he creates a gap, we must be aware and use that space."
---
FEBRUARY 1
Benitez left frustrated by draw

By Steve Hunter - LFC Official Website

Rafael Benitez admitted to being a frustrated manager after seeing his side drop two points in the 1-1 draw with Birmingham City at Anfield, and felt the failure to get a second goal cost the Reds dear.

The Liverpool manager is a firm believer in finishing a game off and scoring more goals and believes his team need to improve in that area.

"I am very disappointed because when you score one goal you need to score the second to finish the game, especially against 10 men, and we didn't do that," retorted Benitez.

"We had a lot of chances but the Birmingham goalkeeper was fantastic. If Luis Garcia had scored from his good chance then we win the game and it is a totally different situation.

"Birmingham were good in the air and we knew that with 10 men they would be looking to get corners and free-kicks which is where they got the equaliser from."

Benitez praised Robbie Fowler for his performance when he came on in the second half and believes his team need to give the Reds goal machine better service.

"We know Robbie needs to improve his physical condition but his movement was really good," enthused Benitez. "What we need to do better is give him better service. Robbie makes good runs and we need to give him the ball in the right areas."
---
FEBRUARY 1
Blues ruin Fowler's return

By Rob Lancaster - Sky Sports

A late own goal from Xabi Alonso denied Robbie Fowler victory on his Liverpool return as they were held to a 1-1 draw against 10-man Birmingham.

Steven Gerrard's deflected second-half strike appeared set to give Rafa Benitez victory in his 100th match in charge after the visitors had seen Damien Johnson sent off for serious foul play after 28 minutes.

But the European champions' march towards a ninth straight home win was halted in the closing minutes when substitute Alonso chested the ball into his own goal under little pressure.

It appeared Fowler had volleyed home a winner in stoppage time, but a linesman's flag spoilt the script on a frustrating night for the home side.

The forward had to wait for his first action since returning to Merseyside as he was named on a strong bench by Benitez that also included Jamie Carragher.

The defender's absence from the starting XI was a big surprise as his run of 76 consecutive league appearances was ended so recent signing Daniel Agger could make his debut.

The Dane had little to do at the back, although he was involved in the biggest talking point of the match when he was on the end of a hefty tackle from Johnson.

Referee Rennie had little hesitation in showing the midfielder a straight red for the lunge on the defender and, as if the controversial dismissal wasn't bad enough for Bruce and his troops, they lost David Dunn soon after with a calf injury.

While Liverpool understandably enjoyed the lion's share of possession, even when the game was 11 aside, they were unable to turn their domination into clear-cut chances.

Skipper Gerrard had their best effort of a quiet first half when his well-struck free-kick whistled just over the top of Maik Taylor's goal.

Indeed, it was Birmingham who had the clearest sight of goal in the opening 45 minutes when a poor clearance by Agger went unpunished by Chris Sutton as he shot straight at Jose Reina.

That proved to be the former Celtic man's last contribution up front as he moved back into midfield after half-time to try and help the visitors repel a Liverpool onslaught.

Fortune certainly seemed to be favouring their cause when Mario Melchiot's inadvertent header towards his own goal hit a post and stayed out.

However, the Blues' resistance was finally broken 17 minutes into the second half when Gerrard's deflected effort from Fernando Morientes's cut back found the corner of the net.

Fowler's arrival on to the field before play started again was greeted by even bigger cheers than the goal as he was welcomed back by the Kop, but he was unable to help his new team-mates find the second goal they needed to kill the game off.

Luis Garcia wasted the best chance when he prodded wide from six yards out and the Spaniard's miss was to cost Liverpool dear as they surrendered their lead late on.

Alonso gifted Birmingham an equaliser when he turned Sutton's header past Reina after the custodian had only just denied former Red Emile Heskey with an excellent save low to his left.

Alonso went close to atoning for his error with a free-kick that forced a stunning finger-tip save from Taylor, although the keeper was thankful to the woodwork from the resulting corner as Dietmar Hamann's shot was kept out by the bar.

Then, with time almost up, Fowler looked to have grabbed a winning goal to draw him level with Kenny Dalglish on the club's all-time scorers list with an acrobatic finish from close range.

Yet the fairy tale finish was not to be as the referee's assistant correctly flagged for offside as Birmingham picked up an unlikely point in their battle to avoid the drop.
---