---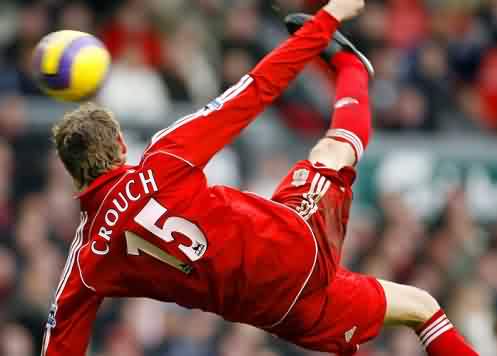 Crouch with a spectacular goal. (Photo: Reuters)
JANUARY 3
Benitez happy with Reds

By Carla Hilton - Sky Sports

Liverpool boss Rafael Benitez is hoping for a successful year with the Reds after they got the New Year off to a winning start against Bolton.

The Reds made it six wins from seven Premiership matches since the start of December with the 3-0 win over the Wanderers on New Year's Day at Anfield.

In that period, Liverpool have vastly improved from a side who couldn't find the net earlier in the season, notching 17 goals and conceding just one.

Benitez hopes his side's current vein of form remains, saying: "As a manager of a team that has a good balance between attack and defence, I am very happy."

The Spaniard does however admit to not being happy with the nine points from a possible 12 his side picked up over the festive period, and confessed his disappointment with the defeat to Blackburn on Boxing Day.

"We deserved to win against Blackburn. We had a lot of chances and if we had scored the first goal maybe it would have been another thing," he added.

"It is a pity now but you cannot change it. The only thing you can do is find positives and that is the consistency of the team, the chances we are creating, the good football we are playing and also the clean sheets."

Benitez has been linked with moves for a number of players during the transfer window, including West Ham midfielder Javier Mascherano and Valencia striker David Villa.

But he says he is happy with his current squad and feel's they are more than capable of keeping their current stature in the Premiership.

"I read every day (about) three or four new names. I think it is important to use the squad," said Benitez.

"Bolo Zenden (out since late November after a knee operation) will be back in maybe two weeks and then we can manage with all the players we have.

Benitez refused to comment on the chances of catching second-place Chelsea who sit eight points ahead of the Reds following a goalless draw with Villa on Tuesday.

"I think it will be a good month for us. But we are not looking at the table," said Benitez. "We are looking at the FA Cup (against Arsenal), our next game.

"If you start counting your chickens then, at the end, you will have problems.

"There are a number of teams that are contenders for Champions League places: Arsenal, Portsmouth, Bolton, Tottenham - all of them can be there.

"It is not easy to talk about this now because we have a long race."
---
JANUARY 3
More of the same Jermaine

By Ian Rush - Liverpool Echo

Jermaine Pennant has shown just what a good player he can be for Liverpool when he is full of confidence and bang on top of his game.

But now he has got to forget all about the way he played against Bolton and go out and do it all over again. And then again.

Liverpool wanted and needed width to unlock Bolton and Pennant provided it to great effect. He played a leading part in both Crouch and Gerrard's goals and looked a threat all afternoon. Given some of the criticism he has had this season, it was good to see him showing us exactly why Rafa Benitez put his faith in him and brought him to Anfield.

But Pennant will realise he has set a new standard for himself now, one that he must reach time and again at a club the size of Liverpool's.

If he slips below this level of performance in the next game or the others that follow, then the doubters will surely be back.

The good news is that in the next week Pennant has every incentive he could wish for to prove those critics wrong. Because with Arsenal visiting twice in four days for Saturday's FA Cup clash and then the Carling Cup quarter final replay next Tuesday, he can show Arsene Wenger that he was wrong to let him leave Highbury.

Not many players get a second chance at the big time but that is exactly what Pennant has got now, having been brought to Anfield from Birmingham.

He showed against Bolton that he can be a major attacking force. But you just cannot play a couple of good games and then a couple of poor ones at Liverpool and expect to get away with it.

Of couse it doesn't matter who the opposition are, any player must perform to their best week in, week out.

But there's no denying there is always an extra bit of spice to things when you come up against your old club, and he should get every chance now to make Wenger think again.

The two cup games could be quite different, with one or two players rested for the Carling Cup match.

But if Liverpool can ruffle Arsenal's feathers the ways teams like Sheffield United, Fulham and West Ham have done, then with home advantage I fancy us for both ties.

Okay when Arsenal are allowed time and space they are possibly the most attractive team in the Premiership, but that is what Liverpool denied Bolton in a physical battle in the first half and they were then were able to impose themselves on the game.

If the Reds keep up this new found strength of purpose and belief they have found, then Pennant in particular will have every chance to shine on the right flank more often.

It's a chance he must now take.
---
JANUARY 2
Don't ask me to leave

By Chris Bascombe - Liverpool Echo

Peter Crouch celebrated his return to goalscoring form by insisting he has no intention of quitting Anfield this month, nor for the foreseeable future.

The striker continues to be linked with a £12m exit, even though manager Rafa Benitez has repeated Crouch is not available for transfer.

Benitez believes Crouch's advisors are responsible for the recent speculation, which intensified when the forward was left out of recent fixtures.

Crouch responded in the right way with the stunning opener in yesterday's 3-0 victory over Bolton. The 25-year-old now says he hopes to remain at Anfield.

"I've heard all the speculation and all I can say is I'm happy here and love playing for the club," said Crouch.

"It's a fantastic club, all the games are massive and I wouldn't want to leave. I hope I've shown when I do play I always give 100 per cent. I see my future here and as long as the manager doesn't want me to go, I won't be going.

"I've had challenges throughout my career and this is another one. There are a lot of players who get rotated and I'm not the only one.

"When you get a chance, you've got to take it. Hopefully I've given the manager something to think about. We all need to impress, not just those who are in and out.

"It can get frustrating when you want to play every game and do your best for the club, but all you can do is keep working hard.

"I know the manager has got no problem with me. Everyone who knows me knows my attitude won't change. I've always worked hard and given my all, and that's always going to be the case."

Crouch's strike had echoes of an equally spectacular Champions League effort earlier this season.

"I was thinking about the Galatasaray goal when I struck it and it was nice to prove that was no fluke," he said.

"It was a good ball in and it was an instinctive strike. That's just what we needed, because the game opened up then to allow us to get three.

"We've got ourselves back in a good position again. There are some difficult games to come, but there's a lot to play for and it's up to us what we get out of the season."
---
JANUARY 2
Recalled Crouch sticks it to the critics

By Ian Doyle - Daily Post

When an ecstatic Peter Crouch wheeled away with atwo-fingered salute to the Kop yesterday, the temptation must have been to slowly turn his hand around and direct it towards his critics.

The Liverpool striker has endured a festive period of speculation and recrimination following a performance during the Boxing Day defeat at Blackburn Rovers that prompted Rafael Benitez to issue a warning to the underachieving forward.

Crouch then had to watch from the bench as Liverpool bounced back with victory at Tottenham Hotspur on Saturday and suffered the indignity of again being linked with a move to Newcastle United.

So it was with understandable delight that the striker celebrated the magnificent scissor-kick that flashed beyond Juusi Jaaskelainen and sent Liverpool on their way to a deserved victory over Bolton Wanderers yesterday.

Crouch's gesture, rather than a response to his doubters, signified his second such strike in front of the Anfield faithful this season following his similarly spectacular effort against Galatasaray in the Champions League in September.

Typical, then, that Crouch should subsequently spurn two far more presentable openings with his head, echoing his Ewood Park errors seven days previously and underlining his aerial ability does not match his prowess on the ground. New year, same Crouch.

It didn't prove costly yesterday, however, as his wonder goal helped spark a vastly improved second-half Liverpool display that Bolton manager Sam Allardyce later admitted the visitors could not live with.

Steven Gerrard celebrated royal recognition with a well-taken volley moments later before Dirk Kuyt capped a convincing victory by netting a richly-deserved third goal with eight minutes remaining.

After the avoidable defeat to Blackburn, Benitez's side have now beaten two of their main rivals for a Champions League place in the space of three days and moved back into third place in the Premiership.

This win extended their unbeaten home league record to 27 games – their best sequence since 1981 – and was a sixth triumph in their last seven Premiership games, a ninth clean sheet in 10 top-flight outings.

Bolton, who began the game ahead of Liverpool and were chasing a club record sixth successive Premiership win, have long aggravated Benitez with their no-nonsense tactics and physical approach.

The Spaniard had urged referee Graham Poll to be wise to the ways of Allardyce's men, but a jaded Bolton struggled to muster anything as Liverpool's willingness to go toe-to-toe with the visitors during a first-half war of attrition provided the platform for victory.

The home defence, with the recalled Sami Hyypia impressive, protected Pepe Reina's goal to such an extent Bolton failed to register a single shot on target all afternoon.

But it was on the flanks where Liverpool truly prospered, Jermaine Pennant, Mark Gonzalez and later Luis Garcia effective as they busied the visiting full-backs and negated the threat out wide of Kevin Davies and El Hadji Diouf.

Pennant was the standout of the three, enjoying easily his best game in a Liverpool shirt by contributing to the opening two goals, both of which came from the right. This was much more like the player on which Benitez splashed out £6.7million six months ago – will 2007 be the year the winger realises his undoubted potential?

In contrast, Diouf, on his first playing return to Anfield since his departure two years, was booed throughout but offended only the fans to whom he blew a kiss after winning a free-kick, while Nicolas Anelka, another ex-Liverpool player, was similarly subdued.

Benitez's views on the Christmas period are well known, and Bolton's lacklustre showing provided weight to the argument of festive over-exertion.

While the Spaniard could rotate his squad – making four changes from the team that won at Tottenham – Bolton's lack of strength in depth meant yesterday was a fourth game in 10 days for most of their players. It showed during a final quarter in which Liverpool should have increased their winning margin.

Watching Bolton is usually as attractive a proposition as a New Year's Day morning fry-up, and it said much about the standard of the fare during the first 45 minutes that the loudest cheer from the crowd before half-time came when Ricardo Gardner miscontrolled the ball.

What decent football was on show came from the home side and they created the better chances, Gerrard shooting wide from range and Kuyt seeing a goalbound effort blocked early on, before a 40-yard run from the Dutchman was halted by a cynical challenge by Tal Ben Haim that earned the Israeli a booking.

The closest Liverpool came to shaking everyone out of their New Year hangovers arrived on 28 minutes when Steve Finnan, who struck his own crossbar at White Hart Lane on Saturday, rattled the woodwork at the right end this time as his 20-yard shot was palmed on to the frame of the goal by Bolton keeper Jaaskelainen.

Soon after, a counter-attack from John Arne Riise eventually ended with Xabi Alonso dragging narrowly wide after Kuyt and Pennant declined the invitation to shoot, and Crouch nodded a decent Finnan cross off target.

After such a poor first half, Liverpool stepped up the pace after the break and settled the outcome with two goals in as many minutes just past the hour.

Both were Christmas crackers. Good foraging by Kuyt released Pennant down the right, and his cross floated perfectly for Crouch on the penalty spot to swivel his long frame and power a fantastic scissors-kick beyond Jaaskelainen. The striker – who amazingly played a full 90 minutes in the Premiership for only the second time this season yesterday – was dropped after his wonder goal against Galatasaray earlier this season, and might well fear the worst ahead of Saturday's FA Cup visit of Arsenal with Craig Bellamy vying for a return after missing out yesterday through injury.

Eighty-three seconds later, Kuyt and Pennant combined again for the Dutchman to this time cross for the incoming Gerrard to rattle a well-taken volley into the top corner from 16 yards.

After that, it was a matter of how many as Bolton wilted. Crouch fired another acrobatic effort at Jaaskelainen and wastefully headed over Finnan's fine cross before Kuyt bludgeoned his way beyond three defenders and released a drive that was turned over by Jaaskelainen, who pulled off a great save to palm clear Hyypia's header from the resultant corner.

Kuyt, though, was not to be denied and got his reward seven minutes from time, running on to Garcia's throughball and holding off Gardner before tucking cleverly into the bottom corner from a tight angle.

There was still time for Crouch to illustrate heading is not his forte by nodding a Finnan cross weakly at Jaaskelainen when completely unmarked.

But it could not detract from what was a happy new year for Liverpool and Crouch in particular.
---
JANUARY 1
Rafa flies flag for Pennant and Gonzalez

TEAMtalk

Rafael Benitez hailed the impact of wingers Jermaine Pennant and Mark Gonzalez after Liverpool's 3-0 victory over Bolton on New Year's Day.

Liverpool striker Peter Crouch grabbed the headlines with a spectacular overhead kick but Benitez felt his two wide men were crucial figures.

After a frustrating first half Crouch broke the deadlock with a superb overhead kick - not dissimilar to the one he scored against Galatasaray in the Champions League - in the 61st minute.

Steven Gerrard volleyed home 83 seconds later finally to end Bolton's resistance while Dirk Kuyt added a third seven minutes from time.

Right winger Pennant had a hand in the first two goals, crossing for Crouch and then playing in Kuyt who centred for his captain to score from 12 yards.

Chile international Gonzalez also posed a threat on the other flank and Benitez was quick to recognise the contribution of his wingers.

"We knew it could be a difficult game. In the first half we had chances but in the second half it was clear both teams were tired," said the Spaniard.

"Today Pennant and Gonzalez were pretty important players, running behind defenders.

"We knew Gerrard and Xabi (Alonso) could be tired so the wingers and the strikers were the key in keeping the other team deep.

"We had, on both sides, players with ability and pace and with them going forward all the time their defenders cannot go forward if you know the winger is a threat."

With the closest thing to a first-half goal being Steve Finnan's shot which was tipped on to the crossbar by Jussi Jaaskelainen it appeared Liverpool were set for more frustration after the interval.

However, Crouch's brilliant volley provided the cushion they needed and when Gerrard followed it in pretty soon afterwards the result was virtually assured.

Benitez was impressed with all three strikes, which lifted Liverpool above their opponents into third and ensured the Reds ended the packed festive programme with nine points from four matches.

"The goals were amazing. The first one was the most important, the second was a very good goal and the third, for a player working as hard as Kuyt, you must be pleased for him," he said.
---
JANUARY 1
Big Sam blames fatigue

By Peter ORourke - Sky Sports

Bolton chief Sam Allardyce felt his side ran out of steam following the busy festive period against Liverpool.

The Reds romped to an impressive 3-0 win at Anfield to leapfrog Bolton into third spot in the table.

Allardyce admitted his side were not at the races and he felt fatigue played a major part in their defeat.

"I could smell it coming to be honest. It was a game too many from our point of view," said Allardyce.

"I don't think we've got anything like the sort of energy that was needed to continue to keep Liverpool out and finally we cracked in the end.

"But the quality of the first two goals you have to admire - even though we could have done better in the build-ups in terms of stopping the crosses.

"The two finishes from Crouch and Gerrard were first class and came within such a short period of time there was no way back for us.

"In possession we never posed any threat and because of that they finally wore us down."

"Once we scored the first goal we had more space and more possibilities and also some players playing at a very good level.

"I am really pleased with the team because the concentration of the team was fantastic. I think they did a very good job."
---
JANUARY 1
Gerrard happy with start to new year

TEAMtalk

Liverpool captain Steven Gerrard admitted a goal and a 3-0 victory at home to Bolton was "the perfect start" to 2007.

A stunning Peter Crouch overhead kick, Gerrard's volley and a late Dirk Kuyt strike gave Liverpool the win at Anfield and lifted them into third place in the Premiership.

Gerrard, who was awarded an MBE in the New Year's Honours List, told Sky Sports 1: "It was the perfect start: a home win, three points and a clean sheet and we played some really good football against a decent side.

"It's been a great week for me personally but personal things are put to one side when you go onto the pitch.

"It was a great team performance and there should be a special mention for Jermaine Pennant. He's been criticised this season but today he was fantastic, his crossing from the right was superb.

"My goal was really nice. I was really quiet second half but I was pleased with the goal."

Man of the match Kuyt added: "It's a good beginning to this year.

"We're now third in the table, and for us it's very important just to keep going.

"Just winning the home games is the most important thing. It's a tough league and a long race so we'll see."

Reds boss Rafael Benitez echoed his skipper's sentiments. "I think all the supporters must be really happy. We started the year really well; it's a fantastic start to 2007.

"We were waiting for a physical game and in the first half, it was more difficult. In the second half, we scored the goals and opened the game, it was very good."

Asked about referee Graham Poll's performance - Benitez urged officials to monitor Bolton's tactics more closely - he added: "If it's the same for everybody, perfect."
---
JANUARY 1
Rampant Reds rock Bolton

By Peter ORourke - Sky Sports

Liverpool got the New Year off to a flying start with an impressive 3-0 win over Bolton at Anfield.

Two superb second half goals from Peter Crouch and Steven Gerrard, and Dirk Kuyt's late strike, gave Rafa Benitez's men all three points against a disappointing Bolton side.

The win helps Liverpool leapfrog Bolton into third spot in the table and ends Bolton's good run of form.

Liverpool looked to impose themselves on Bolton from the off and Gerrard had the first shot in anger after just two minutes with a shot from the edge of the area which flew wide of the target.

Bolton looked happy to sit back and defend early on, but they almost got through on 14 minutes when Nicky Hunt broke free down the right only for Jamie Carragher to clear his cross from reaching Nicolas Anelka.

Tal Ben Haim was booked by referee Graham Poll on 20 minutes for hauling down Kuyt in full flow as the Dutchman tried to lead a Liverpool counter attack.

Liverpool came close to breaking the deadlock on 28 minutes when Steve Finnan worked a one-two with Jermaine Pennant on the edge of the box and the Republic of Ireland international fired in a rasping shot which Jussi Jaaskelainen superbly tipped onto and over the crossbar.

The home side continued to call the tune and Gerrard tried his luck from long-range on 31 minutes, but his effort flew well wide.

A minute later Xabi Alonso missed a good opening when Pennant teed up the Spaniard on the edge of the box and the midfield schemer clipped his shot just wide of the far post.

Mark Gonzalez wasted a shooting opportunity on 33 minutes when he found space on the edge of the box, but the Chilean dragged his right-footed shot horribly wide.

Crouch had a half chance soon after when he glanced Finnan's inviting cross wide of the target.

John Arne Riise had the last noteworthy shot of the first half when he blazed a half volley from the edge of the box over the top as Bolton restricted Liverpool to efforts from long-range.

Liverpool picked up where they left off at the start of the second half and Gonzalez had their first chance after the restart when he headed Pennant's cross over the top.

Ivan Campo was the next man to go in the book when he was cautioned for a blatant push on Pennant.

Liverpool made the breakthrough they deserved on 61 minutes with a brilliant overhead kick from Crouch.

Pennant sent over a cross from the right and Crouch showed superb agility to volley his effort into the bottom corner past Jaaskelainen in what was a carbon copy of his goal against Galatasaray earlier in the season also down at The Kop end.

Two minutes later Liverpool doubled their lead as Gerrard celebrated his recent MBE with another classy goal.

Kuyt combined with Pennant down the right and the Dutchman picked out Gerrard arriving in the box with his cross and the Liverpool skipper smashed an unstoppable volley into the top corner to spark wild celebrations among the home side.

Bolton defender Abdoulaye Faye was lucky not to be sent off on 65 minutes when after being booked for fouling Crouch he kicked away the ball in frustration, but Poll decided to only warn the Senegal international rather than hand him a second yellow card.

Crouch had a great opening on 70 minutes when Finnan picked him out inside the box, but the giant striker drove his shot straight down the throat of Jaaskelainen.

Bolton tried to respond and substitute Ricardo Vaz Te saw his corner kicked away from right in front of the near post by Pennant and from the following corner Faye headed over the top when well placed.

Crouch really should have added a third on 76 minutes when Pennant's cross found him unmarked inside the box, but the striker wastefully headed the ball over the crossbar.

Kuyt was denied a goal ten minutes from time with a powerful run and shot which Jaaskelainen tipped over the crossbar.

From the resulting corner Jaaskelainen produced a flying save to deny his fellow Finn Sami Hyypia a goal from his powerful header.

Kuyt got the goal his performance deserved on 83 minutes when substitute Luis Garcia played him in on goal and the Dutchman held off Ricardo Gardner before slotting his shot into the bottom corner past Jaaskelainen.

Crouch should have grabbed a fourth in the dying seconds when Finnan again picked him out inside the box, but with only Jaaskelainen to beat he headed straight at the keeper.
---