---
NOVEMBER 25
Werner becomes
Reds chairman

TEAMtalk

Liverpool have announced their new chairman will be Tom Werner, who holds a similar position with club owners New England Sports Ventures.

In a widely expected move Werner will officially start on December 1, although previous chairman Martin Broughton effectively ended his involvement after last weekend's victory over West Ham.

"I want to pay tribute to Martin Broughton and the magnificent job he has done for Liverpool FC," said NESV principal owner John Henry.

Henry, who obviously has a very close working relationship with Werner, added: "He was appointed in difficult circumstances and faced challenging times yet he always focused on doing what was in the best long-term interests of the club.

"It has been a pleasure for us to work with Martin and we wish him well in all that he does in the future.

"I am delighted that Tom has agreed to take over as chairman. It is a crucial role as we move forward and no one is better placed than Tom to take up the reins and help provide leadership and vision in the coming years."

Werner expressed his optimism that, under NESV's ownership, the club could revisit former glories.

"It is a great honour to be taking over from Martin as chairman of this great club," he said.

"We have a tremendous foundation to build on for this season and the long term.

"Our goal is to work tirelessly for our supporters and deliver the best conditions for a winning team and silverware in the trophy room."

Broughton always intended to stand down once the sale process, for which he was specifically appointed, was complete.

Now NESV have started to find their feet after their October purchase of Liverpool he has no qualms about stepping down.

"I'm happy that Liverpool FC is now in good hands. Everyone associated with the club can look forward to an exciting future with the right owners and the club on a secure financial footing," he said.

"I've been impressed with the way that NESV have already approached the job ahead and both John and Tom are winners who want to see the club competing again at the top of European football."

And the self-confessed Chelsea fan added: "I also want to say a big thank you to the Liverpool fans for all their support during the past seven months.

"This is a very special place with fantastic supporters and through a difficult time they always kept faith in what we were trying to do.

"I've grown to love the club and it's been a privilege for me to have been here."
---
NOVEMBER 16
Henry: No overhaul in January

Football 365

John W Henry has suggested Liverpool will wait until the summer before any significant squad overhaul.

Henry was speaking after another defeat for Liverpool put more pressure on manager Roy Hodgson, with some fans chanting for Kenny Dalglish as they lost 2-0 at Stoke.

But the club's new American owners insist that they are not about to part company with Hodgson - who was only appointed in the summer by the club's previous regime.

"This club can be better and blaming the manager or any one particular player is simply wrong," Henry said.

"This club needs to play up to their potential every match. If they don't, they won't win."

Co-owner Henry also dropped a hint that the club will not be looking to invest heavily in the squad when the transfer market reopens in January.

"We have work to do and must invest in this club to improve it on the field. Can that be successfully done in January?" continued Henry.

"A number of people I've talked with doubt it. Most seem to think it will be the summer before we can really begin to improve.

"So all the players have to be on the same page and have to live up to the history and respect this club has engendered.

"The club has gone through a very difficult period and that period has not ended.

"We've dealt with baseball players and racing drivers at the highest level. Liverpool also have players at the highest level and they all want the same things. They want to win."

Henry says he has met with Liverpool's big stars, after the likes of Jose Reina and Fernando Torres were linked with moves away from the club.

"I've met a number of our players and I've been greatly impressed by them personally.

"The question they have asked, rightfully so, is whether or not the club is going in the right direction. They all want that.

"I have been very forthright about our philosophy and about what we are going to try to achieve."

The New England Sports Ventures chief has also indicated his belief that home-grown investment is the way forward for the club and he has instructed Academy technical manager Jose Segura and Under 18 coach Rodolfo Borrell to work hard on bringing through new talent.

"I've been to the academy three times and met them both," he said.

"They are key people for the future of Liverpool. They know their work is now a major priority for us, and I have made a personal commitment to them. We intend giving them the resources to build LFC for the future.

"We need "top four" young players. They will not produce a quick fix, but our philosophy in football will be based on the long term. That is what has made Arsenal and Manchester United so strong.

"They understand something we understand in Boston - to be consistently strong on the field, you must have a consistent flow of young talent that has been nurtured and developed the right way."
---
NOVEMBER 15
Comolli reveals
Liverpool's transfer strategy

ESPNsoccernet staff

New Liverpool director of football strategy Damien Comolli insists that he will be working closely with Roy Hodgson to bring new faces to Anfield in the coming transfer windows and stressed that his position will not undermine the manager.

Comolli joined Liverpool from Saint Etienne two weeks ago, and it has been suggested that the club's new owners appointed him as a result of doubts about Hodgson's transfer record since taking arriving at Anfield.

Hodgson has brought Joe Cole, Paul Konchesky, Christian Poulsen and Raul Meireles to the club, but all have flattered to deceive thus far, and it is thought that John Henry sought out Comolli in a bid to improve the quality of new recruits.

But Comolli has moved quickly to play down reports that he will have final say in any future transfers, insisting that he and Hodgson will work together to target new players.

"I think it was just a feeling between the owners and Roy as well that they wanted someone to be in there and come and help on a daily basis, support Roy in terms of making sure there is the best structure around all the club in all the areas which are football related," Comolli told Liverpool's official website.

"In the short term, in my position you always think of the next window or the next two windows and I think everybody has got this in mind. As I've just joined, we've got only a few weeks to prepare for the window but we are also looking at the summer transfer window.

"That's what I would call short term but then long term we are already looking at things like the pre-season tour for next season, we are already looking at the academy to see what we can improve, what the targets are there in England, young players who we could bring in, the same thing about Europe, to identify players around Europe that we'll be trying to bring in. It's a mix of short term and long term which I think is one of the beauties of this job."

Comolli has built a strong reputation for spotting talent during spells at Monaco, Arsenal - where he helped unearth Gael Clichy and Kolo Toure - and Tottenham. Comolli was responsible for bringing the likes of Gareth Bale and Luka Modric to the White Hart Lane, though he also facilitated the signings of the significantly less successful Adel Taarabt and David Bentley.

After clashing with then-Spurs manager Martin Jol, who complained several players had been signed without his permission, Comolli was later sacked along with Jol's successor Juande Ramos.

But the 37-year-old Frenchman is confident that a strong relationship with Hodgson will help bring the Reds success.

"We've been talking at length since I joined, several times a day on different issues and different matters, not only related to the transfer window or to scouting, we talk about everything. I think this relationship is going to grow in a positive way, that's for sure. We see things the same way. So far everything we have discussed we totally agree and have the same vision. I expect that's going to go on.

"When you see the clubs he has managed and the national teams he has managed, what he's done at Fulham, what he's done at Blackburn and obviously being in charge here. Obviously, when you have managed Inter Milan as well and all the pressure there is there at one of the biggest clubs in the world, you have to have respect for what he's done.

"I think sometimes it becomes controversial and it should not be. As John Henry said, it will be a consensus among us. That's the way John sees it, that's the way I see it and that's the way Roy sees it. The manager's decision and the manager's opinion on a player is absolutely crucial."
---
NOVEMBER 15
John Henry sets out
his vision for the Reds

By James Pearce - Liverpool Daily Post

Owner John W Henry has urged Liverpool's players to give everything to help lead the club up the Premier League table.

The American, who also revealed that his sports investment company New England Sports Ventures (NESV) will change its name to Fenway Sports Group, reiterated his promise to restore the Reds to their former glory.

But he insists success will only come if everyone is pulling in the same direction.

Speaking to the independent Liverpool FC website Red and White Kop, he said:
"The club has gone through a very difficult period and the period has not ended.

"It's up to us to build a winner going forward. It's up to them (the players) to determine to win now. We saw a certain team on the field against Chelsea last week that showed what they can do.

"We also know how competitive the EPL is this year. There are no guaranteed matches any longer for any club. This club can be better.

"Blaming the manager or any one particular player is simply wrong. This club needs to play up to their potential every match. If they don't, they won't win."

Looking further into the future, Henry vowed to invest in the playing squad but believes the club will conduct most of its business next summer rather than in January.

"We have work to do and must invest in this club to improve it on the field," he added. "Can that be successfully done in January? A number of people I've talked with doubt it.

"Most people seem to think it will be the summer before we can really begin to improve. So the players – all 11 each week – have to be on the same page every match and have to live up to the history and respect this club has engendered – no matter what.

"I've met with a number of our players and had private discussions with some of them. I've been greatly impressed by them personally. They are all exceptionally bright and they all want to be here.

"The question they have had, rightfully so, is whether or not the club is going to go in the right direction. They all want to see that. I have been very forthright about our philosophy and about what we are going to try to achieve.

"Some would prefer a quick fix. Others prefer to focus on the long-term and that is very difficult for most players.

"But this club needs everyone on the same page every day. We need everyone focused on what needs to be done in the next match facing us and during that match.

"The club should not have to settle for less. As one insightful player told me, "The spirit of the side needs to be there like a family – as one."

Responding to fans' fears about a lack of football expertise and experience at senior management and board level, Henry pointed to the recent appointment of Damien Comolli as director of football strategy.

He said: "Damien has a philosophy that is similar to ours and what has made us successful in Boston. But he is just our first appointment.

"We don't know English football, but we do know the sports business and what it takes to be successful.

"You must first of all have the right people in place and you must be able to give them the resources they need to be successful. With the new Financial Fair Play Rules coming into effect next year, we know that we need to emphasize revenue growth. That is an area we feel we are very strong.

"The best way to market Liverpool FC globally is to win because the fanbase is already so large globally. If we build the right team on the field, everything off the field will take care of itself."

Henry said chairman Tim Werner and himself will be frequent visitors to Anfield.

He said: "We will be in London and Liverpool with regularity. There is a lot to be done. We speak about the Sox and LFC daily – seven days a week.

"We are working on teleconferencing as well as spending time in Liverpool. In the digital world of today one can say almost nothing is local. It has never been easier to work from a distance.

"But like Fenway, Anfield will be hard to stay away from. We've really enjoyed our time in Liverpool thus far."

Asked what Liverpool's new owners can give to Liverpool in terms of a personal vision and philosophy, Henry said: "We will have to be bold, thoughtful and aggressive in order to do the right thing for the community, for the supporters and for the club long-term.

"Liverpool values are well known. What makes Anfield so special beyond the history of the ground are the people who populate Anfield each match. They value the club first and foremost.

"That is what we have to ensure every person who wears a kit or works for the club at any level has in the their minds first and foremost – the club comes first.

"In Boston every player who puts on a Boston Red Sox uniform knows what it means to wear that uniform. It's something very special. Wearing that uniform has a great deal of meaning.

"We have a Red Sox way that is discussed in spring training each year. It is a privilege to work for the Boston Red Sox at any level. We have Red Sox Ambassadors who spend their days ensuring that people outside of the organisation know how much all of us inside the organisation appreciate our fans and visitors to Fenway Park.

"The values that we have to strive for within the club at Liverpool emanate from the supporters. We cannot have anyone at the club who when they walk into the Academy, Melwood or Anfield, aren't aware of club values and that the club comes first and foremost.

"We have to have everyone from top to bottom on the same page – exactly the same page. And we will.

"We will make mistakes and it will be up to us to correct them. With the level of support this club has, if we are all on the same page, we will be incredibly successful."
---
NOVEMBER 4
Hodgson 'more than
impressed' by NESV

This is Anfield

Liverpool boss Roy Hodgson says he has been "more than impressed" by initial meetings with the club's new owners, New England Sports Ventures.

NESV completed their £300million takeover of the club last month with co-owner John Henry on Merseyside this week to unveil Damien Comolli as the club's new Director of Football Strategy and watch the Napoli game at Anfield tonight (8.05pm).

Hodgson said, "The owners are very interesting people and every discussion you have with them is a pleasurable one because they have good questions and clear ideas and they listen to what you have to say," Hodgson said. "I have been more than impressed. Sometimes people buy clubs and you don't see or hear them but it has been quite the opposite.

"John and Tom have taken an enormous interest, spending a lot of time with the club and it is something which can only be to our benefit because we need people to look into this club. It is a great club and will be a great club in the future but it needs people like John and Tom to look into it and see where we have been going wrong and where they can step in and help us improve and that is what they are going to do.

"I regard that as positive and what I have to do as team manager is ensure we win as many games as possible so their improvements take place in a positive atmosphere rather than in a negative atmosphere.

"As far as they are concerned they understand that you don't wave magic wands in sport, if things need putting right it is going to take some time. But they are determined to get things right and the quicker the better but they are realistic that what needs to be done needs to be done.

"In the meantime we have to be making the best efforts we can to keep the club as high in the table as possible and the more we can do in that respect the easier their job will become."
---
NOVEMBER 3
Comolli capture
signals clever start

Comment by Ian Watson - TEAMtalk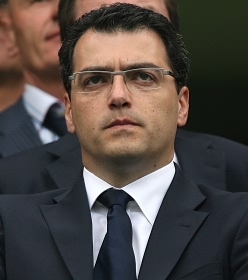 Damian Comolli (pictured) is Liverpool's new director of football strategy and TEAMtalk's Ian Watson believes the Frenchman will prove a wise appointment.

John W. Henry's vow to under-promise and over-deliver gave some insight when NESV eventually completed their takeover of Liverpool as to how the new American owners would be different from the old ones. Their first signing epitomises that strategy and signals a leap in the right direction for the Reds.

Damian Comolli was confirmed as the club's new director of football strategy on Wednesday, and while many Liverpool fans may not be familiar with his work, the mere fact that his position was created at all should act as a source of encouragement to the Anfield faithful.

Comolli brings with him a wealth of knowledge and experience, having operated in similar roles - despite slightly differing titles - at Spurs and St Etienne after a spell working under Arsene Wenger for Arsenal as European scout. His main responsibility at Anfield appears to be the identification and recruitment of new talent, but his influence will no doubt be also felt in other areas of the club.

The director of football title is often sneered at by many in the British game, including some managers who naively see the role as a threat to their authority. Roy Hodgson, however, has spoken of his happiness over Comolli's arrival and though I doubt he had any say in the appointment of the man who will eventually decide his fate, the under-pressure Reds boss could have much to gain from co-operating with the newcomer.

Hodgson has been a man on the edge for the last few weeks and despite assurances from the new owners, the manager has carried a beleaguered look with him since long before Henry and co strolled into town.

Comolli's arrival means Hodgson can focus very much on the now, while the Frenchman takes care of the future - one that looks unlikely to involve Hodgson unless the manager can use the reduction in his responsibilities to inspire a vast improvement in his team's performances between now and May.

Comolli's appointment signals a welcome shift away from the short-sightedness that engulfed Anfield during the final year or two of Hicks and Gillett's reign. Liverpool's transfer business - and even the appointment of Hodgson - was all about the here and now, with new arrivals and rumoured targets offering a short-term fix but little in the way of longevity or scope for development.

Henry alluded to a change in attitude on that particular front when NESV took over, and Comolli's track record suggests Liverpool will seek to be much savvier in the transfer market, with talent, potential and value more attractive than reputation.

As has been repeated over and over this afternoon, Comolli was indeed the man who brought Gareth Bale to White Hart Lane, though the former Southampton youngster was hardly an unknown. Comolli's key contribution to the Bale deal was not discovering the Welshman, but persuading him to choose Spurs over Manchester United or other 'bigger' clubs, just as he did in the case of a number of exciting talents, including John Bostock and Danny Rose. Comolli also ensured Tottenham got to Dimitar Berbatov ahead of United, who had to pay Spurs an extra £20million just two years later to finally get their man.

Comolli also played a huge role in bringing to White Hart Lane many of the players who make up Spurs' current best side. Indeed, seven of last night's XI were bought under Comolli's watch (including Kaboul who was originally purchased by Comolli before being sold to Portsmouth and then bought back again), as were regular goalkeeper Heurelho Gomes and goalscoring substitute Roman Pavlyuchenko.

Comolli had his share of bad buys, of course, but his overall transfer record would compare favourably with the vast majority of managers, including Hodgson.

When NESV arrived, many questioned their track-record in football - or lack thereof - and asked how they expected to restore Liverpool to former glories with little or no experience of how the game works. The fact that NESV and Henry are happy to put their egos aside and bow to those with greater knowledge also serves as another positive aspect of Comolli's Anfield arrival.

Many claim taking overall responsibility away from the manager does not work in the English game but there is no reason the new arrangement cannot be a success on Merseyside. You only have to look at Sunday's opponents, Chelsea, for proof of the rewards it can bring.

Carlo Ancelotti has been working under a Football Board that has been in place since well before the Italian's appointment. The six-man board, featuring Frank Arnesen as it's headline name, work alongside the PLC board but oversee all football matters, including transfers.

Just like any organisation or team, getting the right individuals within the group is key, but Chelsea have shown how successful the set-up can be in England and with Henry clearly willing to learn from the success of others, a similar restructuring may well be on the cards at Anfield.

Henry has asked for patience as he and NESV get to work, and after the trials and tribulations of the last 18 months, the indications are that they will get it. Despite Comolli's signing hardly rivalling that of Fernando Torres or Joe Cole in the excitement stakes, he could prove to be one of the most crucial and symbolic arrivals of the new regime.
---
NOVEMBER 3
Damien Comolli joins Liverpool

This is Anfield

Former Tottenham director of football and Arsenal scout Damien Comolli has joined Liverpool as "Director of Football Strategy".

The Frenchman is expected to take up a similar role at Anfield to that which saw him recruit several of Tottenham's now flourishing squad.

Comolli was responsible for taking Gareth Bale, Luka Modric, Tom Huddlestone, Michael Dawson and Dimitar Berbatov, among others.

At Arsenal, where Comolli was European scout for 7 years, he helped Arsene Wenger sign the likes of Thierry Henry and Robert Pires. He was also responsible for discovering Kolo Touré and Gaël Clichy.

Most recently he was sporting director at St. Etienne, but left the post this week in order to take up the new job at Anfield.

It is believed Comolli was recommended to new owner John W. Henry by Billy Beane – a close friend of Comolli's and a man whom Henry attempted to hire as general manager of the Boston Red Sox. Beane is general manager at a baseball side in the US and revolutionised the way players were recruited.

Beane was the subject of a book called Moneyball, which is about "sabermetrics" — basing decisions on statistical analysis. Comolli shares the similar belief and now looks set to challenge whether it can be transferred from baseball to football.

Henry is on Merseyside this week and is expected to attend the Reds two home games with Napoli and Chelsea. He met with manager Roy Hodgson on Tuesday and has visited the training ground at Melwood. There could be more news on off-field appointments to follow.

It is believed Hodgson has been told by Henry and NESV to concentrate purely on coaching the team and that Comolli and Kenny Dalglish have been put in charge of recruiting players.

What will this mean for Liverpool?

Foremost a dilution in the absolute power of the manager. When it comes to transfers, Hodgson can expect to be a key part of the team that decides who is signed, but only a member.

NESV have said they will be investing substantially in scouting and that will be what makes or breaks their approach. Too many English clubs rely on agents to do their scouting for them and even the best agents operate with vested interests. With proper scouting, strong collection and analysis of data, Liverpool could go into the new world of Financial Fair Play with a really competitive model. Just don't expect the football world to embrace it with an open mind.

Quotes (From LFC.tv)
NESV Principal Owner John Henry: "Damien has a proven track-record of identifying exciting young footballing talent and we are delighted that he has agreed to join Liverpool. Working closely with Roy Hodgson and the coaching staff, I know he will make a valuable contribution to strengthening the Club and the squad as we move forward.

"Today's announcement is just the first step in creating a leadership group and structure designed to develop, enhance and implement our long-term philosophy of scouting, recruitment, player development and all of the other aspects necessary to build and sustain a club able to consistently compete at the highest level in European football.

"We intend to be bold and innovative. We will not rest until we have restored Liverpool Football Club to the greatness Liverpool fans expect."

Roy Hodgson: "I am looking forward to working with Damien whom I have known for many years. We are engaged in an exciting project here and he will bring a lot to the table. We all want to see moves to strengthen the squad and support player development over the next few years. John Henry and I are totally united in delivering on that ambition."

Damien Comolli: "I am delighted to be joining Liverpool and look forward to working with John and Roy. I think we all realise there is a big job ahead, but we all share the vision that John has for rebuilding the club and bringing back the success that the supporters deserve."
---
NOVEMBER 2
Liverpool FC owner
JW Henry's title dream

Liverpool Echo

New Liverpool owner JW Henry has admitted he wakes up every day "thinking about what we can do to improve our chances of winning a championship."

In a question and answer session with a supporters' website the Reds owner said: "We are focused on getting the club positioned to win trophies within the Financial Fair Play rules that are being imposed next year.

"That means off the field we are intent on increasing LFC revenues worldwide.

"On the field we have to be smarter.

"Arsenal and Man U have depth that is young and capable.

"We do not.

"We have a lot of work to do there.

"A lot of work.

"And we will, but we have to be smart about it. We are here for the long term.

"Everything we do is for the long term.

"Our biggest responsibility is to bring in the right people to the club on and off the field."

Henry added: "We are an organisation filled with people who are driven to compete at the highest level.

"There certainly are better investments than sports clubs, but we know that everything we do has meaning to large numbers of people – and what we do has meaning for us.

"It's incredibly interesting."
---



This page was last updated 25.11.10 17:31cet
Thor Zakariassen ©