---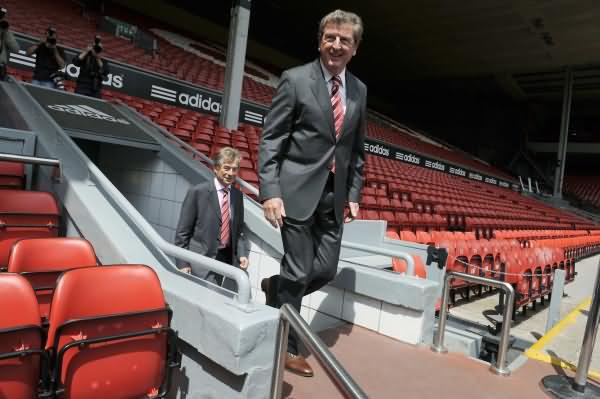 Roy Hodgson entering Anfield with chairman Martin Broughton.
(Photo: Reuters)

JULY 15
Boss thrilled with Milan arrival

By Paul Eaton in Switzerland - LFC Official Website

Roy Hodgson today revealed his delight at Milan Jovanovic's Anfield arrival - and admitted he was tracking the Serbian striker while manager at Fulham.

Hodgson officially welcomed the 29-year old striker to the Reds' squad this morning, where Jovanovic met his new teammates for the first time and took part in a full training session.

Having only arrived back from his post-World Cup break last night Jovanovic is unlikely to figure in Saturday's first friendly against Al-Hilal, but Hodgson is confident the man who scored the winner for his country against Germany in South Africa will make a big impact at the club over the coming season.

"I'm very pleased we have got Milan," said Hodgson. "He looks a very keen and enthusiastic player and it's good to have players who are desperate to play for the club.

"I was not responsible for signing him but I was pleased to hear the club had taken the initiative to get a player like him. I've seen him a lot during my time at Fulham and we were watching him.

"He's a natural wide player who can play through the middle. He's more of an attacking winger than a wide midfielder and he's a goalscorer. He scores goals for club and country and I'm sure we'll get a lot of use out of him.

"He scored in the World Cup, he's done well with Standard Liege at Champions League level, so he's no stranger to the big games.

"He only joined us last night, so I don't think we'll use him at the weekend. He looks fit, but at this stage I think I'd prefer to use the players we have been working with all through pre-season."
---
JULY 15
Roy reveals transfer plans

By Paul Eaton in Switzerland - LFC Official Website

Roy Hodgson today confirmed Liverpool are working hard to improve their squad for next season - but warned supporters not to believe everything printed in the newspapers.

The Reds have been the subject of much transfer speculation over the course of the summer so far, with a multitude of players linked with moves both to and away from Anfield.

Speaking at the club's Switzerland training camp, Hodgson revealed work is ongoing behind the scenes to ensure Liverpool kick off 2010-11 with the strongest possible squad.

However, the new manager urged fans to take rumours in the media with a pinch of salt until the Reds make any official announcements.

"We are working very hard on making certain the players we have at the club who you would call the 'good players' are going to be with us for next season," Hodgson told Liverpoolfc.tv.

"The board are working very hard in that area. Some players are a bit disenchanted after what happened last season and we want to make sure we get that enchantment back.

"We are looking to add to and improve the squad, but I prefer not to talk or say what we are doing until we have something concrete to announce.

"We are being linked with players left, right and centre and it amuses me that we are sometimes linked with players we haven't even heard of.

"I have great faith in the Liverpool public that they will see through the snippets of information they may read in the newspapers, take it with a pinch of salt and wait for an official announcement."
---
JULY 13
Aquilani boost for Reds

By Andy Hampson - Press Association Sport

Liverpool midfielder Alberto Aquilani has completely recovered from the ankle problem which hampered his first season at Anfield, according to the club's new medical chief.

The Italian had to wait more than two months for his Reds debut following his £20million move from Roma last year and then endured an indifferent campaign.

The 25-year-old is now back with the club for pre-season training and has already made a positive impression on newly-appointed head of sports medicine and sports science Peter Brukner.

Brukner told LFC Weekly magazine: "Alberto's ankle, which was a problem last year, is now 100% healed.

"He has been training and has looked very sharp. He'll have to keep working on his injury prevention programme and if he does, I'm sure the supporters will see the best of him because last season was very frustrating for him injury-wise."

Brukner's next task is to assess the fitness of star striker Fernando Torres, who pulled up with an adductor injury in Sunday's World Cup final in South Africa.

Torres has now returned to Madrid with the rest of the victorious Spain squad and Liverpool staff are to fly out to meet him this week.

The 26-year-old is due to have a scan before beginning his summer break.

Torres has been plagued by injury in recent months. He struggled with a groin problem before Christmas and his domestic season ended prematurely after two knee operations in the space of four months.

He returned to action at the World Cup but looked well short of match sharpness throughout the whole tournament and failed to score.

Torres has been linked with big-money moves away from Anfield this summer but his latest injury may go some way to quelling speculation about his future.

Brukner is generally pleased with the health of the squad but the group is only coming back together slowly because of varying lengths of involvement at the World Cup.

"Staggering pre-season presents a challenge," he said. "I'm guessing that the World Cup guys will be pretty fit anyway.

"You don't lose a lot in three weeks and they've all been in contact with us to speak about their programme over that period."
---
JULY 12
Torres' injury puts
£50m Chelsea move in doubt

By Jason Burt - Telegraph.co.uk

An injury to Fernando Torres late into last night's World Cup Final between Spain and Holland may further confuse the striker's future, with Chelsea hoping he will ask Liverpool to consider offers for him when he returns from holiday.

Torres cut a forlorn figure after he was left out of the starting line-up by Spain coach Vicente Del Bosque - and did not even warm-up with the rest of the substitutes - but he came on at the start of the second-half of extra-time to replace David Villa as his country's lone striker.

However as he chased down a long ball forward he pulled up suddenly, feeling his groin, before collapsing on the turf in apparent agony. He was eventually stretchered off. It capped a miserable tournament for Torres, although he was involved in the build-up to Andres Iniesta's winning goal, and there will now be frantic concern over the extent of the injury and whether it might place his hope for a summer move to Chelsea in jeopardy.

Torres wants clarity on Anfield goings on Torres did manage to collect his winners' medal and join his team-mates on a lap of honour but he was clearly in some discomfort and given his constant record of injuries, which has been an issue for him throughout his career then it will be a concern to any potential buyer.

Chelsea are leading the chase for the 27-year-old and are set to open the bidding, hoping that Torres will ask for a move although he may fall short of handing in a transfer request. They remain confident that Torres wants to join them and may, eventually, offer up to £50 million for him.

However this would fall short of Liverpool's valuation for Torres which is believed to be closer to £70 million. At the same time it's understood that, significantly, Liverpool are already actively looking at alternatives should Torres eventually be sold.

Contact is believed to have been made with the German club Wolfsburg, now managed by Steve McClaren, over the future of their striker Edin Dzeko who is believed to be admired by Liverpool's new manager Roy Hodgson.

Negotiations for the Bosnian, who has previously also attracted interest from Chelsea, to move to Manchester City are at an advanced stage although a fee is yet to be agreed.

If Liverpool were to sell Torres for £50 million or more then it would give them the funds to purchase Dzeko and although they would not be able to out-bid City it could well be that the 23-year-old would prefer a move to the Merseyside club.

The sale of Torres would also provide Hodgson - who has stated he wants to keep the striker and intends to hold talks with him when he returns from holiday, if not before - with further funds to strengthen his squad as he goes about re-shaping his team for the new season. That could be bolstered with Javier Mascherano, who may hand in a transfer request, also pushing for a move.

City had hoped that they might strike an agreement with Torres but although they retain interest they also accept that the failure to qualify for the Champions League has severely damaged their chances. Instead they have concentrated on trying to sign Dzeko or, if that bid fails, to secure Inter Milan's Mario Balotelli.

Torres has been cagey over his future throughout the World Cup, declaring that he wants to hear from Hodgson over his plans for Liverpool before he decides what he wants to do. Earlier this year Torres made clear that he wanted the club to strengthen significantly this summer but they have to generate funds first.

The player is believed to want to stay in England, unless there is a bid made for him by Barcelona who he regards as the only other club he would consider moving too. He has told friends that he wants to now be challenging for major trophies and is desperate to win the Champions League.
---
JULY 11
Thompson send message
to Gerrard to stay at liverpool

By Steve Millar - Daily Star

Kop legend Phil Thompson has belted out a heartfelt message to Steven Gerrard: Winning a title away from Liverpool means nothing.

Gerrard has gone on holiday without officially committing his future to his one and only club with new boss Roy Hodgson hopeful he will stay.

But the test of that optimism will come when either Real Madrid or Chelsea slam hard cash down on the Anfield boardroom table.

Thompson is still fearful that Gerrard will do a runner as time runs out on his quest to win a title before hanging up his boots.

Gerrard, 30, is obviously deeply concerned that he won't be able to fulfil that ambition at Liverpool.

That's following a disastrous last season for the club and with major doubts now also hanging over the futures of his team-mates Fernando Torres and Javier Mascherano.

Thompson, though, is adamant that picking up a champions' trophy at another club will be tarnished.

Only winning one in the red shirt of Liverpool will mean anything, he insists.

That's why Thompson would love Gerrard to give it at least one more year at Anfield where the prize he treasures can still be won.

The same goes for Torres and Mascherano to show loyalty and give something back to the club which has made them the players they are today.

Thompson, 56, said: "Stevie has held this team together with Jamie Carragher for the last six years.

"People say he deserves the chance to go elsewhere for what he's done for Liverpool.

"But I hope he now says, 'Do I need to move on?' He will be thinking long and hard while he's on holiday and wonder if he needs what's happening to him at the moment.

"There have been smear campaigns about his private life on internet sites. I think that's an absolute disgrace. That alone could have driven him away.

"He's risen above that and thank goodness he has.

"Now I hope he feels that if he is to win a title he'd love to still win it with Liverpool.

"It wouldn't be the same with any other club, whether that be Chelsea, Real Madrid or Manchester City.

"The medal would only mean something if he won it as a Liverpool player."

Thompson believes Torres and Mascherano, both 26, should now come out publicly and commit to the Hodgson cause at Anfield.

He added: "I know it's been frustrating for Fernando because of the injuries since he arrived at Liverpool.

"But he's a top player who was welcomed with open arms when he came to the club.

"Liverpool and Rafa Benitez have made him into the player he is now.

"He was a big player at Atletico Madrid but now he's a regular international footballer and one of Spain's main strikers. I hope he shows loyalty too.

"Liverpool deserves another year from Fernando, Javier and Stevie.

"Let's remember Mascherano was a reserve team player at West Ham when Rafa got him.

"Rafa resurrected his career and he was captain of Argentina in the World Cup.

"Stevie was captain of England. All this has come about because of their time at Liverpool.

"I would like to see them all give at least another 12 months to help Roy Hodgson get this club back to the Champions League."

Hodgson, he believes, will never have had a tougher battle on his hands in his long-standing ­managerial career.

He is facing possibly the biggest rebuilding task since Bill Shankly walked through the delapidated Anfield gates 51 years ago.

Liverpool then were in the bottom half of the old Second Division.

They had been knocked out of the FA Cup in the third round by non-league Worcester.

Thompson said: "No one, not even Kenny Dalglish, Graeme Souness, Gerard Houllier or Rafa has faced a serious situation like this with players openly talking about quitting the club. Roy knows this is a tough test and he will need all his managerial skills to keep the club intact.

"This is the toughest since Shanks came to Liverpool's rescue.

"This is still going to be a summer of turmoil and, to me, that is an awful prospect.

"I do fear for my club. That's why we need to show the spirit of Istanbul and fight together.

"We need to get the fans firmly behind Roy and together we can turn around the fortunes of this great club."
---
JULY 10
Smells like team spirit to Hodgson

TEAMtalk

Roy Hodgson has stressed the importance of team unity to his Liverpool squad as he hopes to restore the Reds back among England's top four.

The new Liverpool manager, speaking to LFC Weekly, claims he wants to instil the same mentality into his Liverpool side that was present when Bill Shankly and Bob Paisley were at the helm.

He said: "It would be foolish of anyone to dismiss the importance of team spirit. The Liverpool sides of the 70s, and particularly the 80s, achieved greatness because all of the players had similar values to one another both on and off the pitch.

"That has been a strength of the club for so many years and it has been the mantra that has taken the club so far and made it one of the most important football institutions in the world."

The Croydon-born coach highlights the negative influence individualism can have on the squad and team performance.

He added: "Bill Shankly was a socialist and he believed in the combined effort - nothing is achieved by individuals. I'm not comparing myself to Shankly at all because nobody can. But I buy into his view when it comes to managing a successful football team.

"It is vitally important to make sure all of the players are fighting for the same cause. It is my job to find the right combination of players to bring success back to Liverpool. I want Melwood to be a place where the players enjoy coming to work because of the training and the way they are treated."
---
JULY 9
Hodgson assures Liverpool
players, fans new signings on way

tribalfootball.com

Liverpool boss Roy Hodgson has assured fans he plans to add to his squad in the coming weeks.

Hodgson is desperate to avoid any repeat of the dressing room friction that forced Rafa Benitez to admit, midway through last season, that his players' body language wasn't all it might have been.

"It's vital all the players are fighting for the same cause and it's my job to find the right combination of players to bring success back to Liverpool," said Hodgson.

"I want Melwood to be a place where the players enjoy coming to work because of the training and the way they're treated.

"Hopefully, over the coming weeks and months, we will make some changes to the team. It's important to be able to bring in new players to freshen everything up and keep the others on their toes.

"But it's not right to talk about strengths and weaknesses based on last season because the year before, with virtually the same players, they might have won the league with a bit more luck. So I will give them all a fair opportunity."
---
JULY 9
Liverpool to resist
all offers for Torres

By Sam Wallace - Irish Independent

The Liverpool hierarchy will tell Fernando Torres that they have no intention of selling him this summer and that they plan to resist the offers from Chelsea and Manchester City for the Spanish striker.

Torres' future has been one of the key issues in the arrival of Roy Hodgson at the club and the feeling is that to sell him -- no matter what the price -- would undermine any hope of success in the coming season.

Torres' future is balanced against that of Steven Gerrard, whom the club would allow to leave if he asked to do so -- and providing Real Madrid made a suitable offer.

The difference in attitudes towards the two players is because Liverpool feel that they would owe Gerrard the right to play elsewhere after 12 years of loyal service.

They do not feel the same debt towards Torres, who signed a new five-year contract in May last year. It is accepted that it may be practical to consider a sale of the Spanish international next summer.

There are plans to give the player an attractive and innovative commercial deal that the club hope will give him greater incentive to stay. But the key element in Liverpool's favour is Torres' long-term contract, which means that even if he is sold next summer he would still attract a considerable price.

Hodgson said yesterday that he expected both Torres and Gerrard to stay and planned to meet with the former soon after the World Cup final.

Holland's Dirk Kuyt has said he wants to stay at Anfield, but Liverpool have virtually given up on Javier Mascherano and are likely to sell him to Barcelona. There have also been suggestions that Hodgson could be interested in bringing Peter Crouch back to Anfield, having tried to sign him for Fulham last summer.

Hodgson said: "I anticipate there might be a situation where other big clubs will try to sign Steven, but he gave no indication (when he met with Gerrard) that he wanted to leave. Nobody at the club wants him to go so I will be doing my utmost to make sure he stays. I am confident he will.

"Fernando is a wonderful striker and I understand the fans' concerns about his future. When I do meet him, I'll be doing everything I can to convince him that Liverpool is the place to be."
---
JULY 8
Hodgson reveals Gerrard talks

By James Carroll - LFC Official Website

Roy Hodgson has revealed his delight at the content of his talks with Steven Gerrard and Jamie Carragher - and the new boss is confident of a similar outcome when he meets with Fernando Torres after the World Cup.

Just hours after being confirmed as Liverpool manager last Thursday, Hodgson met with Gerrard and Carragher - and later Academy Ambassador Kenny Dalglish - in his new office at Melwood.

And the tactician was left thrilled with the positive nature of the conversations.

"I think they went splendidly," Hodgson told LFC Weekly. "I was very happy to meet the players and, of course, Kenny who I already know so well.

"I was delighted to see how positive they are. Everybody is looking forward to the new season."

He added: "Obviously Steven and Jamie are the playing heartbeat of the club and it's very important we keep people like that with us.

"I anticipate there might be a situation where other big clubs will try and sign Steven, but he gave no indication that he wanted to leave.

"Nobody at the club wants him to go so I will be doing my utmost to make sure he stays. I am confident he will."

One player Hodgson has yet to meet is Torres due to the striker's World Cup commitments.

However, the Spain star announced over the weekend he was pleased with the appointment of the 62-year-old and eager to hear the new gaffer's plans for 2010-11 - and Hodgson admits the feeling is mutual.

"Fernando is a wonderful striker and I understand the fans' concerns about his future," he said.

"Unfortunately with the World Cup still on, I won't be able to meet him face to face for another few weeks. That's just circumstance and you won't hear me complaining about it.

"When I do meet him, I will be doing everything I possibly can to convince him that Liverpool is the place to be.

"If he sees progress, I am confident that he won't want to go anywhere else. I think he understands the club and the city."

Meanwhile, the manager is planning a new role for Dalglish under his Anfield reign.

Hodgson believes the Kop legend has a significant role to play in strengthening communication between the Academy and Melwood as the Reds look to develop new talent.

He explained: "I never doubted that Kenny would leave. He's been offered a role, which I believe is a crucial role for the club - not just in the short term, but in the long term.

"The club will benefit from Kenny's work long after I've left Liverpool and long after he's left as well.

"He is very aware of all the players at the Academy and I understand there are a few promising players emerging.

"He will liaise between Melwood and Kirkby and keep me updated with any developments that he deems necessary.

"There is a bridge between the Academy and the first team that needs to be created and I believe he can help build that bridge."
---
JULY 8
Liverpool FC departures unlikely
without new signings first

By David Randles - Liverpool Echo

There are unlikely to be any players heading out of Anfield until replacements have been lined up.

A number of Liverpool players are being linked with possible transfer window moves but manager Roy Hodgson is also keen to see what he has at his disposal before sanctioning any departures.

Fiorentina are reported to be ready to offer Liverpool in excess of £3.5million for left-back Emiliano Insua while newly promoted West Bromwich Albion are thought to be eyeing a loan deal for striker David Ngog.

Including Milan Jovanovic, Liverpool had 13 players on World Cup duty in South Africa – more than any other Premier League club.

With the majority of those players not expected to return to the club until after the pre-season training camp in Switzerland, Hodgson has a threadbare squad to work with and can ill afford to release anyone until he has brought new players in to the club.

First, though, the former Fulham boss has pledged to give everyone a chance to prove their worth at the club regardless of their status under the previous managerial regime.

His first opportunity to do that will be against Saudi Arabian champions Al-Hilal in Liverpool's opening pre-season game a week on Saturday at the Cashpoint-Arena in Altach, Austria – home of Austrian second division outfit SCR Altach.

One player he may be able to call on soon is Jovanovic who is edging closer to securing his switch to Anfield from Belgian side Standard Liege.

The Serbian international revealed last week that he is hopeful of linking up with his new teammates in Switzerland, and the club are quietly confident that will be the case.

Jovanovic will join Liverpool on a free transfer. He can play as an out-and-out striker or in a wider attacking role and could fill the void left by Yossi Benayoun's weekend departure to Chelsea.

Liverpool head to Switzerland next Wednesday, July 14.
---
JULY 6
More backing for Roy

This is Anfield

Former Blackburn assistant boss Tony Parkes has had his two cents worth in regard to Roy Hodgson's appointment as new Liverpool manager, declaring his former boss the perfect man for the job.

Hodgson was unveiled at Anfield as Rafa Benitez's successor last Thursday, a decision which has received mostly positive response and backing from fans, players and Reds legends.

And Parkes, who worked with Hodgson during his years at Blackburn Rovers between 1997 and 1998, says Hodgson is the perfect man to sheer the Liverpool ship.

"I think with the players he's got to coach and work with at Liverpool, I think he'll be the ideal manager," Parkes told BBC Radio Merseyside.

"I think by coming back to this country he's got some unfinished business.

"He started that at Fulham with players who are probably not as good as the players at Liverpool, without being too unkind to Fulham.

"He's very experienced, he's very determined and you'll find that he doesn't like certain things. His team talks are usually all about his own team and he mentions the opposition very little.

"It's all about how his team will play and he has good knowledge and he's a good tactician and I think the players will enjoy working with him."
---
JULY 6
Roy explains route to LFC

LFC Official Website

Roy Hodgson believes his insatiable appetite for football may have kept him away from a job at one of Europe's elite clubs for so long.

Hodgson has been a football manager for 34 years and his previous most high-profile job came when he coached Inter Milan in the 1990s.

The new Anfield boss thinks his love for the game may have held back his career in the past.

"I wouldn't say I've done things the hard way because there are all kinds of routes a person can take in football management that throw up contrasting challenges," Hodgson told LFC Weekly magazine.

"It would be disrespectful to other managers to say that I've had it tougher. What I would say is that my route to Liverpool has been slightly different.

"My problem has been that I love working and I hate being out of it. Whenever I have been, after a few weeks I have found myself yearning for a return. So maybe on occasions I've been prone to jumping at an offer at a smaller club when I should have waited a little longer before a better job has come around."

It's a common complaint that England's top clubs don't often appoint English managers, but Hodgson believes his perceived lack of 'Englishness' may have been a problem for him.

"There have been times when I've tried to blend in too well to the surroundings I'm in, rather than be myself and portray my Englishness.

"I sometimes think that people in England probably view me as the least English of the English managers. Maybe that's one of the reasons why it has taken me longer than others to get one of the big jobs."
---
JULY 2
Carra confident Reds pair will stay

TEAMtalk

Liverpool defender Jamie Carragher is confident star players Steven Gerrard and Fernando Torres will still be at the club next season.

The pair have both been the subject of speculation this summer following the Reds' failure to qualify for the Champions League and the departure of manager Rafael Benitez.

Some observers believe retaining their services is one of the first tasks facing new boss Roy Hodgson but Carragher expects them to stay at Anfield.

The 32-year-old told talkSPORT: "I think there is a lot of talk about this but the people who say these things, a lot of them are doing this to create a bit of pressure around the club.

"I don't think anyone knows these people personally to come out and say that.

"I am sure they will still be involved at the club next season and if they are the aim for the club will be to get back into the Champions League."

Hodgson stated at his unveiling yesterday that his goal for next season is to get Liverpool back into the elite European competition.

Carragher added: "We didn't just miss out, we finished seventh. That is a big disappointment.

"If we could get back in there that would be a great achievement for the club and the manager.

"It is going to be a tough season but if we keep the players we have got and get back to where we were a few years ago I am sure we will give everyone a run for their money."

Carragher is looking forward to working with veteran boss Hodgson, who led Fulham to the Europa League final last season.

"I think it is a great appointment by the club," he said. "I am sure we can move on from this and it will go well."
---
JULY 2
Hodgson defends Blackburn Rovers record

Daily Post

New Liverpool FC manager Roy Hodgson has defended his record in English football and insisted he has learned from failures earlier in his career.

The 62-year-old's appointment on a three-year contract at Anfield has received a lukewarm response in some quarters. Despite his relative success with Fulham, making them a solid mid-table Barclays Premier League side and guiding them to the Europa League final, there are those who still remember his unsuccessful spell at Blackburn between 1997 and 1998.

"Blackburn was the only place I have been sacked and that was somewhat harsh," he said. "I took a team which had avoided relegation by one point into European football and then lost four of the very best players - three to injury and one to a forced sale to Rangers - the following year."

Hodgson led a side which narrowly escaped relegation to a sixth-placed finish in his first season only to be sacked in December 1998 with the club bottom of the table.

He added: "Admittedly the start of the following season was not as good and we built up expectations but it is difficult for me to see Blackburn as a complete failure.

"I did make mistakes there; you always make mistakes when you fail somewhere.

"I have analysed those failures but I don't think they were quite as blatant as some people would like to think."

The former Inter Milan boss also hit out at critics who say he has not had enough experience at big clubs.

"Blackburn were a top side when I went there, we finished sixth in the league, Udinese have had success in the past and the four years I had with the Swiss national team going to the World Cup and European championships was successful.

"I regard comments like that as far too insular."
---
JULY 2
Rush full of praise for new boss

This is Anfield

Liverpool legend Ian Rush has spoken very highly of newly appointed Reds manager Roy Hodgson, who was unveiled at Anfield yesterday.

Hodgson's appointment has been met with a mixed reaction from Liverpool fans, but Rush is not in doubt that the club have made the right appointment to replace Rafa Benitez.

He said, "I know Roy quite well and its a good appointment.

"When he was manager of Finland I spent some time over there and when I was doing my UEFA Pro badge in Wales he came down to spend two days with us.

"I've also met him at various UEFA meetings over the years and I've always been really impressed with what he has to say.

"Tactically, he's very astute, he's highly respected across Europe and if you look at his CV he's been everywhere.

"Roy has proved himself at club and international level and has managed big clubs like Inter Milan.

"He was being talked about as the next England manager so its good to see Liverpool move quickly to get him before the FA make any decision about Fabio Capello."
---
JULY 2
Roy: Reds rebuilding not required

TEAMtalk

Roy Hodgson does not anticipate a major rebuilding job at Liverpool and fully believes he can bring trophies back to Anfield.

However, he has stressed he cannot hope to do that without quality players - both those he has inherited and some he will look to bring in.

Much has been made of what a parlous state the Reds seem to find themselves in after their worst Premier League finish for 11 years (seventh), an early Champions League exit and, off the field, being in £351million of debt.

But the 62-year-old is experienced enough to recognise, even at this early stage, that it may not take wholesale changes to get things back on track.

With injuries and loss of form affecting key personnel - most notably Fernando Torres and Steven Gerrard - this season could be written off as a "blip".

Previous boss Rafael Benitez's departure had as much, if not more, to do with his constant battles with the hierarchy off the field than it did with issues on it.

Hodgson is confident if he can hang on to the likes of Torres and Gerrard - and that may be a big if - he can start having a positive effect almost immediately.

"I hope it is not a rebuilding process," said the former Fulham boss, who is reportedly working with a transfer budget of just £15million.

"It is well documented there is uncertainty about star players but I am confident we will deal with that situation and we won't lose any star players.

"That is my hope and my aim and if I can bring it about hopefully we will be able to add to the squad.

"I am pretty sure everyone at the club will agree with me when I say our task is to keep hold of the very good players we have and find some other good players to complement them.

"If we are really going to achieve the goals that Liverpool must always set we are not going to do that on organisation alone, we are going to do it on the quality of players.

"We haven't discussed transfer budgets in any great detail, this is not the right time to talk about that.

"The financial situation at many clubs is not what they want it to be and I know the chairman in particular is working really hard to put that right."

Hodgson is viewed by many as a safe pair of hands, a man to bring stability to a club which had more leaks than the Titanic and was beset by rumours of in-fighting among the power figures.

He may not be a name to set pulses racing but what he achieved with Fulham in taking them all the way to the Europa League final, combined with his vast experience with other European clubs, has earned him a reputation for being an efficient operator.

Hodgson is no Jose Mourinho, no Benitez for that matter, but what he does provide is commitment and a sense of security and he is quite happy with that tag.

"I would have thought stability and having a reputation of someone who can provide stability is not faint praise, I think it is quite high praise," said the first Englishman to manage a 'big four' club since, coincidentally, Roy Evans lost his job at Anfield in 1998.

"I regard myself as a coach who works very hard to produce winning football teams.

"That is what I have been doing for 35 years and long may it continue.

"All football managers' major task is to organise the team so you get the best out of the individuals.

"What clubs of this stature require of course are the quality of the players that can bring about the results the club want.

"Organisation alone unfortunately won't do that because the team has been well organised for some time: it was well organised under Gerard Houllier and it was well organised under Rafael Benitez.

"Sometimes when the best players are not available to you the organisation can stand you in good stead and maybe help you get results you wouldn't have otherwise.

"But I am confident that as long as the quality of players remains at the level it should be for Liverpool and as long as we continue to maintain the traditions of a good work ethos, players sweating blood for the shirt and never letting fans down, I see no reason why we can't win things in the future.

"But I can't pretend that the current situation is not somewhat different to the situations that maybe Rafa and Gerard had when they came to the club.

"My job to some extent will be initially to steady the ship but there is no doubt our ambitions remain as high as they ever were."
---
JULY 2
Dalglish approves of Hodgson appointment

TEAMtalk

Roy Hodgson says Kenny Dalglish has "a very big part" to play in Liverpool's future after the Anfield legend gave his backing to the new boss.

Dalglish was a contender to replace Rafael Benitez at Anfield but has given his approval to the former Fulham manager, who took over at the Premier League club yesterday.

The Scot said in the Daily Mail: "I look very favourably on the appointment.

"I have known Roy a long time and have a great respect for him.

"We've not had detailed conversations yet but my interests are in Liverpool."

Hodgson is keen to retain the services of Dalglish - even though he was appointed to the top job the Scot was overlooked for.

Dalglish is currently involved in youth development at the academy and is an ambassador for the club.

"Kenny will play a very big part in bringing youth players through," said Hodgson.

"If he is going to take on the role of head of football development his role in making that bridge between Kirkby (where the academy is based) and Melwood (the first team training ground) is going to be a vital one.

"I think he has lots of other roles to play. With his position at the football club I compare him to Giacinto Facchetti at Inter or Bobby Charlton at Manchester United - they have such a role to play.

"When this club needs representing, especially on a foreign stage, who better to represent it than Kenny Dalglish?

"I am hoping that between those two roles, ambassador and head of youth development, and the advice and help he is going to give me in my job, we will get great currency out of Kenny if he wants to be part of that and I hope he does.

"I had a long conversation with Kenny before I got the job and we need to sit down together now to work out how it will work in practice.

"With goodwill on his side - and there is plenty of goodwill on my side - we should find a solution."

Chairman Martin Broughton was somewhat dismissive when asked about how Dalglish's expression of interest in the manager's job had been received by the board.

"Kenny put his name forward for wanting the job and we appreciated the fact he was keen to do it but for us he was never a candidate and I explained that to him," he said.

"We see Kenny as having an excellent long-term future at this club.

"He is happy in his current ambassadorial role but we would like to build on that role - although we haven't defined what that will be yet because it is for Roy and Kenny to work beyond that."

Hodgson said who the board chose or did not choose was out of his control but that in no way did he want to force Dalglish out of the club, quite the opposite in fact.

"Kenny Dalglish should be at Liverpool until he decides he no longer wants to be a part of football," added the former Fulham manager.

"I can't have any comment on the people who wanted to be candidates, it was up to the board to decide who they wanted and the chairman distinctly answered that question by saying they did not want Kenny to be a candidate for the job, but they do want him to be a part of the club today and in the future.

"They want him to use all of his skills to be part of the club long-haul to make sure we bring some players through."
---
JULY 1
Hodgson targets
Champions League return

Irish Independent - Press Association

Roy Hodgson has targeted a return to the Champions League after being unveiled as the new Liverpool boss.

Hodgson today signed a three-year deal to succeed Rafael Benitez in the Anfield hot-seat and is hoping to get the Merseysiders back in the top four.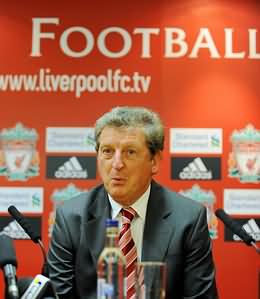 He said: "This is a very big club, a club with enormous tradition and when the club is sold it will get stronger rather than weaker.

"My priority is to try to get the team doing better than last season and get them back into the Champions League spots."

Hodgson led Fulham into the final of the Europa League last
(Photo: Getty Images)
season and felt now was a good time to make the step up to a club with greater expectation.

He added: "It is the right move for me at this stage of my career.

"I am here on merit, I know the club did their homework before asking me to be their manager and my aim is to work for the club and the people of Liverpool."

One of Hodgson's first tasks will be to meet experienced campaigners Steven Gerrard and Jamie Carragher this afternoon.

"I am anxious to meet them," he said.

"They are two key players and two key players in my future at this club.

"I need to know how they feel and talk to them about general things."
---
JULY 1
Hodgson:
Liverpool impossible to turn down

Irish Independent - Press Association

New Liverpool boss Roy Hodgson has described his appointment as an opportunity that was "absolutely impossible to turn down".

Hodgson was Liverpool's first choice to replace Rafael Benitez after the 62-year-old enjoyed a couple of impressive seasons at Fulham, which culminated in them reaching last season's Europa League final.

Hodgson admitted it had been difficult to leave the west London club, where he had built up a bank of goodwill, but believes taking on the Anfield job will be a highlight of his long and varied managerial career that has included stints in charge of Inter Milan, Blackburn and the Finland national team.

His appointment, on a three-year contract, has already received the backing of club captain Steven Gerrard, and Hodgson is keen to begin the job of reviving the club's on-field fortunes after they finished seventh in the Barclays Premier League table last term.

"I'm extremely proud. The club's tradition in terms of its football and its managers is really second to none and it was an opportunity which was absolutely impossible to turn down," Hodgson told liverpooltv.com

"I am both proud and excited at the prospect of working as the Liverpool manager.

"I don't think there are many jobs that would have tempted me away from Fulham, to be perfectly honest.

"I had such a good relationship with the chairman and the chief executive, the players were magnificent to work with and everything was as good as it gets, but on the other hand when there was a chance that Liverpool wanted me, and they asked to speak to me, I asked the chairman for permission.

"He wasn't too happy to give it but fortunately for me this job came about and I am really happy to be here.

"It'd be foolish to compare but it'd also be dishonest to say anything other than it's going to be a highlight of my career.

"I have worked long and hard to reach the level I have reached."

Hodgson arrived at the club's Melwood training ground this morning to meet those players who had returned for the first day of pre-season, although many of the club's stars are still on leave after playing at the World Cup.

He will give his first press conference at 1.30pm at Anfield this afternoon before meeting with senior players such as Gerrard and Jamie Carragher.

With the futures of Gerrard and star striker Fernando Torres at Anfield a matter of some uncertainty, Hodgson said it would be an immediate priority to ensure they remained.

"It's important, of course. I don't think there's anybody here at the club who would welcome losing them," he said.

"Certainly the fans wouldn't welcome losing them and us as a club I'm sure will do everything we can to make certain they stay with us.

"I'll be trying to persuade them that this is the place to be. I'll ask them to give me a chance to work with you and give us a chance to improve on last season.

"It would be foolish to give guarantees that it's going to happen because I can't speak for the players themselves, but I'll be doing my best to keep them."

He added: "There are a couple of meetings this afternoon with senior players, in particular Steven and Jamie, and I'll contact the rest by telephone.

"I will make certain that before the end of the week I have had a conversation with all of the players to tell them I'm here and am looking forward to welcoming them back when they come."

Hodgson's hopes of keeping Gerrard would, however, seem strengthened after the midfielder endorsed his appointment this morning.

"The club have made a good appointment in Roy Hodgson," added Gerrard.

"Rafa left a few weeks ago and I know the club were determined to take their time and get the right man for the job.

"Roy is hugely experienced and I believe he is the right man for Liverpool.

"I think it's been worth the wait and I'm sure he's just keen now to get on with it and start to quickly put in place his plans for the new season."
---
JULY 1
Gerrard: Roy right man for LFC

By Jimmy Rice - LFC Official Website

Steven Gerrard today backed the appointment of Roy Hodgson by declaring: "He's the right man for LFC."

Hodgson was this morning announced as the successor to Rafael Benitez after a four-week search by the club.

The former Fulham boss agreed a three-year deal and is now charged with getting Liverpool back among the Champions League elite.

Club captain Gerrard is confident Hodgson will prove a successful acquisition.

"The club have made a good appointment in Roy Hodgson," the 30-year-old told Liverpoolfc.tv.

"Rafa left a few weeks ago and I know the club were determined to take their time and get the right man for the job.

"Roy is hugely experienced and I believe he is the right man for Liverpool.

"I think it's been worth the wait and I'm sure he's just keen now to get on with it and start to quickly put in place his plans for the new season."
---
JULY 1
Carra relishing Hodgson era

By Jimmy Rice - LFC Official Website

Jamie Carragher is relishing the prospect of working under Roy Hodgson.

The former Fulham boss was today announced as the 18th Liverpool manager after agreeing a three-year deal.

He will become the fourth coach to preside over the Anfield hotseat during Carragher's playing career following Roy Evans, Gerard Houllier and Rafael Benitez.

Even at 32, the vice-captain is always eager to learn and improve - and he cannot wait to team up with a manager whose CV boasts success in both domestic and international football.

Carragher told Liverpoolfc.tv: "I'm really looking forward to the opportunity of working with Roy Hodgson as he's got such a great reputation in the game and is one of the most experienced managers in world football.

"After this period of uncertainty, his appointment has given us all a lift."
---
JULY 1
Thompson: Hodgson can begin new era

TEAMtalk

Phil Thompson believes the appointment of Roy Hodgson as manager will hopefully signal the beginning of a new era at Anfield.

The ex-Fulham boss was confirmed as Rafael Benitez's replacement on a three-year contract this morning after the finer details of his severance from Craven Cottage were finalised.

Thompson, a European Cup-winning captain with the Reds, now hopes new owners can also be found so the club can move forward after a period of stagnation under co-owners Tom Hicks and George Gillett.

"We need the sale of the club sorted to enable us to really go forward," he said.

"I just hope it won't be too long before that's done. With a new boss and new owners it really would be the dawn of a new era."

Thompson, who was assistant manager during Frenchman Gerard Houllier's reign, believes Hodgson will help bring stability to Liverpool.

"After having foreign managers in Gerard Houllier and Rafa Benitez, it seems there was a thought process of going back to British," he added.

"The club needs a steadying influence and Roy will provide that.

"He's done a fantastic job at Fulham and has a wealth of experience having managed all over Europe.

"This is one of those jobs Roy had hoped and prayed for and it's a fantastic opportunity for him."

Thompson admits Hodgson's appointment will probably not be wholeheartedly welcomed by fans but he urged everyone at the club and supporters to get behind the new boss.

"The big thing now is to get everyone on board comfortable with his ideas and visions for the football club. He has to unite everyone," he told the Liverpool Echo.

"All summer there have been rumours about players going, but he's only just arrived and he won't want anyone leaving.

"He's a shrewd talker and I'm sure he will find the right words and the right manner to speak to players and convince them to stay.

"He will want to build for the future around Steven Gerrard, Fernando Torres and Javier Mascherano.

"If - and it's a big if - players are sold then that cash has to be reinvested in the squad, and not go to the banks to pay off debt.

"No matter what you say about Rafa Benitez, he wasn't helped in that area. The board have to back Roy financially."
---
JULY 1
Roy Hodgson confirmed as
the new manager of Liverpool FC

Liverpool Echo

Liverpool FC have formally announced the appointment of Roy Hodgson as new manager.

The 62-year-old former Fulham, Inter Milan and Switzerland manager has agreed terms with the club on a three-year contract and becomes the 18th manager in Anfield history.

He will be unveiled this afternoon after overseeing the first day of pre-season training at Melwood.

Hodgson joins from Fulham, where he guided the Cottagers to the Europa League final in May and was voted Manager of the Year by the League Managers' Association.

He said: "This is the biggest job in club football and I'm honoured to be taking on the role of manager of Britain's most successful football club.

"I look forward to meeting the players and the supporters and getting down to work at Melwood."
---
JULY 1
Murphy backs Roy's Reds move

Sky Sports

Danny Murphy has backed Roy Hodgson as the right man to transform Liverpool's fortunes.

Hodgson is expected to be confirmed as Rafa Benitez's successor later on Thursday once his switch from Fulham is finalised.

Former Blackburn and Inter Milan chief Hodgson faces a stiff task at Anfield following a disappointing season last term and one of his first jobs will be to persuade the club's top stars to stay on Merseyside.

Murphy, who is being linked with a move back to Liverpool along with Hodgson, is a big admirer of the 62-year-old's management style and feels he is the right fit for the Reds.

"Liverpool need someone who has an understanding of the history and heritage that lies behind the club and what it means in the context of English football," Murphy told the Daily Mirror.

"People spoke about Mourinho, but I personally didn't see him as an ideal fit with Liverpool, because right now, they need someone who has an empathy for the club.

"I admire Roy Hodgson. He has a philosophy of playing good football which will fit well at Liverpool, and he gives players responsibility and a platform to work from.

"Maybe it is time Liverpool had an English manager who knows about the club."

Murphy added: "Roy is a talented manager who succeeds because he works incredibly hard.

"He instils confidence in his players and has a style the players can enjoy.

"His success has been a mix of a lot of things, but primarily hard work.

"He has real tactical knowledge too - in a way it has come from Roy's Italian (managerial) roots, it is an Italian style."
---
JULY 1
Is new Liverpool FC boss Roy Hodgson
the flavour of the month, or the chosen one?

Comment by David Prentice - Liverpool Echo

Last November Roy Hodgson laughed off a newspaper article touting him to manage Britain's 2012 Olympic footballers. "I'm flavour of the month, that's all," he joked. "I can think of a more suitable job."

He never suggested what job was more suitable.

But Hodgson is now the new Liverpool manager. And the fear amongst some Reds fans is that it's because those seven-month old words have become a self-fulfilling prophecy, because, to use Hodgson's own description, he's "flavour of the month."

If so, Hodgson has been a particularly enduring flavour.

Fulham were undoubtedly Europe's surprise package last season.

But Hodgson's record as a manager is no surprise to people who have followed football outside these shores.

It was way back in 2002 that Hodgson said: "Of course, my track record, if people bothered to study it, would put me in the same category as Sir Alex Ferguson enjoys today, but people don't talk about what I've done outside England.

"Here, they just talk about Blackburn Rovers, but that's just a very small part of a 26-year career."

That's a glittering 26-year career, by the way – which he has only enhanced in the eight years since.

The list of achievements are as impressive as the variety of landscapes in which they were achieved.

He won one championship with Halmstads in Sweden, then five successive titles with Malmo.

He coached Neuchatel Xamas in Switzerland before taking over the Swiss national team, where he enjoyed unparallelled success.

"At our peak, I got a mysterious phone call from FIFA House in Zurich," he explained.

"It said 'We'd rather not tell you why, but Sepp Blatter would like you here'. I arrived and met Berti Vogts.

"He didn't know why he'd been summoned either.

"We found they were announcing the new FIFA world ranking system, and it was Brazil 1, Germany 2, Switzerland 3.

"We were no more third in the world than I was a Chinaman!"

A self deprecating tale, perhaps, but it also underlines that Switzerland had never before enjoyed such a lofty standing in world football, and Hodgson guided them there by cannily selling the Swiss FA on the idea of regular internal training camps where players would play for their clubs at the weekend, then join the national squad for Mondays and Tuesdays. The move developed a club ethos within a country framework.

From there Hodgson took Inter Milan from bottom of Serie A to Europe and a UEFA Cup final.

In Norway he took Viking Stavanger from the relegation zone into the UEFA Cup and he narrowly missed qualification for Euro 2008 with Finland.

Unfortunately our closest point of reference with Roy Hodgson here on Merseyside was an unhappy 18-month stint at Blackburn. But that disappointment aside, the man can clearly manage.

The appointment of the 62-year-old Londoner, however, has not been instantly and universally celebrated amongst the club's fan-base – largely because he's not a 59-year-old Scotsman.

There are other negatives, too.

He is an advocate of zonal marking.

He's a pal of David Moyes.

And even though he's fluent in Norwegian, Swedish and Italian, and competent in German, Danish, French, Japanese and Finnish – will he still be able to converse in fluent Carragher?

Those last three light-hearted downsides apart, the positives appear to heavily outweigh the negatives.

The fear is that while his managerial qualities appear equipped to steer Liverpool on an upwardly mobile course again, the question remains as to whether he will be given the tools and the backing to do so.

The Steven Gerrard and Fernando Torres questions have to be answered quickly.

If one or both do depart, he must find out how much money he will be able to reinvest in his playing squad.

And he will quickly find out whether the Liverpool fans' long-held and renowned tradition for fiercely supporting their managers remains unimpaired by the total lack of trust those same fans have in the club's hierarchy. If Roy Hodgson faces the greatest test of his footballing faith as he takes charge of a football club at a historical crossroads, so too, do Liverpool's fans.

The name Hodgson has figured twice before in Liverpool's long and illustrious history.

Gordon Hodgson was one of the greatest goalscorers ever to grace the club.

David Hodgson was a journeyman striker who managed barely 10 goals in 49 games.

Both enjoyed the passionate backing of the fans.

Roy Hodgson deserves that backing, too, because he is clearly more than just a "flavour of the month."

The 2010/11 campaign could be a pivotal one in Liverpool's fortunes.

But Roy Hodgson is a safe pair of hands to guide them through it.
---
JULY 1
Roy Hodgson set for biggest
challenge yet at Liverpool FC

Comment by David Randles - Daily Post

Once the formalities and pleasantries are out of the way today, Roy Hodgson will embark on the biggest challenge of his 35-year managerial career at Liverpool FC.

From taking the reigns at Halmstads aged just 28, to guiding unfashionable Fulham to the Europa League final last year, Hodgson is not averse to overcoming the odds.

Other than his time at Inter Milan, though, there is nothing on his varied and globetrotting CV to compare with what he is now facing at Anfield.

In what has been referred to as the most significant summer in the club's history, Hodgson has a huge job on his hands.

Significantly, that was also the case when he took over at the San Siro.

With Inter rooted to the bottom of Serie A a month into the 1995/96 season, new owner Massimo Moratti took drastic action and replaced Luis Suarez with Hodgson.

As now, Hodgson's appointment was a gamble. As then, Liverpool will desire a similar effect.

After lifting Inter up the table to claim a place in Europe, the following season saw Hodgson guide the Nerazzurri to the UEFA Cup final and third in the league.

At 62, Hodgson is one of football's elder statesmen who is steeped in age old traditions of discretion and diplomacy.

Rightly or wrongly, the firebrand that was Benitez at times became too hot to handle, prompting the club's board to finally end last month a battle the Spaniard was never going to win.

Should Hodgson encounter the same frustrations as his predecessor, he is unlikely to go down the same route.

But while there is much good to be said about the man from Croydon there are also those who seem unprepared to give him a chance.

According to an online poll conducted by Radio City this week, only 21% of supporters agree he is the right man for the job

But the harsh reality is that Liverpool can no longer afford the Guus Hiddinks or Jose Mourinhos of this world and Hodgson's first task will be to convince Fernando Torres and Steven Gerrard that he is the man to help them fulfil their insatiable ambition.

After that he will be charged with returning Liverpool to the Champions League by way of a top four Premier League finish next season – no mean feat given the spending power at Manchester City these days.
---
JULY 1
This is Anfield
and Roy must rebuild it

Comment by Ian Herbert - Irish Independent

The assertion by ex-Liverpool striker John Aldridge that Roy Hodgson faces the toughest challenge of any incoming Anfield manager since Bill Shankly -- who arrived in 1959 to a club in the bottom half of the old Second Division, with a crumbling stadium, poor training facilities, a sub-standard playing staff recently knocked out of the FA Cup by non-league Worcester City -- sounded like hyperbole.

It was actually an understatement.

The stadium is intact, though not a place Liverpool want to be as they survey a business plan with projections of extra millions in match-day revenues from a new purpose-built facility. Hodgson's job is to prevent Liverpool sliding down amongst the also-rans for as long as it takes his board to find the financial salvation of a new owner, to build the stadium and provide a transfer budget.

The big imponderable is whether he will have his three prime players -- each now weighing up their options -- along for the rocky ride. Steven Gerrard gave Hodgson's appointment his tacit approval when told of it last week, though that does not mean he will be staying. Gerrard is in two minds about whether finally to break his ties.

If he goes -- and there has been no bid from Jose Mourinho's Real Madrid just yet -- then it will only be after the same soul-searching we witnessed when Mourinho's Chelsea came calling five summers back.

Hodgson's most vital task is to convince Gerrard to stay.

He may have to give up on Javier Mascherano, who seems to want out, and there are good grounds to say he should not flog himself coaxing Fernando Torres, either. Torres has been in a stew about Liverpool for so long that you wonder whether, if he stays, he can apply himself.

Any club meeting a £50m valuation would be paying more than the value Torres has offered in the past injury-plagued season, compounded by a poor World Cup. Manchester City may be the only one willing.

David Silva's eye-catching move to City might persuade Torres that he should join him. Torres to City looks far more of a prospect than it did when Roberto Mancini publicly declared his appreciation of him two months ago.

The payout would give Hodgson the chance to invest on the wide players and left-back Liverpool need, though if Torres stays, Hodgson may have even less to spend than the £20m he was assigned by Jack Walker to invest at Blackburn Rovers 12 years ago.

Either way, he will need the eye for a bargain which saw him sign Brede Hangeland relatively cheaply and turn him into a commanding Premier League defender; the ability to revive new life out of players who seem to be heading over the hill, to which Danny Murphy, once of Liverpool, Damien Duff, Zoltan Gera and Bobby Zamora stand testament.

He will also need the temperament to handle the owners Tom Hicks and George Gillett, whose £500m demands for a club worth nearer £300m is crippling it; and the nerve to deal with Liverpool fans' eternally huge expectations at a time when the club is being financially eclipsed.

Hodgson's appointment today will coincide with Manchester City announcing signings to take their summer outlay to over £60m.

This is Anfield. A place far more forbidding today than the one Shankly ever found.
---
JULY 1
Aldridge views Hodgson's
task as similar to Shankly's

By Colin Stewart - The Scotsman

Former Liverpool striker John Aldridge has warned Roy Hodgson he has a "massive job" on his hands at Anfield.

The club are expected to end their search for a replacement for Rafael Benitez by finalising the appointment of the Fulham manager by this morning.

Hodgson has been linked with the post for several weeks after emerging as first choice to take over from the Spaniard, who left Anfield on 3 June.

The 62-year-old's name also cropped up as a potential replacement for Fabio Capello should he pay the price for England's dismal World Cup but negotiations have been ongoing with the Merseysiders for some time.

However, Aldridge believes the extent of the task Hodgson will have to do is akin to what the legendary Bill Shankly was faced with when he rebuilt the club in the 1960s.

"He's got a massive job on his hands at Liverpool," said Aldridge. "This is the most important stage in Liverpool's history since Bill Shankly took over with what's happening off the field with the owners and the lack of stability at the club."

Benitez departed after Liverpool's worst season for 11 years, with the club finishing seventh in the Barclays Premier League. Performances were not helped by uncertainty surrounding the sale of the club by co-owners Tom Hicks and George Gillett and the futures of Fernando Torres, Steven Gerrard and Javier Mascherano.

Aldridge believes Hodgson has to decide very quickly his plan of attack and make key decisions in order to be able to move the club forward.

"Something has to happen as soon as possible; you have to go in and test the situation about which players need to go out, what you've got to bring players in and who you can keep," added the former Republic of Ireland international.

"That's very important as Mascherano has been using the wild card about his wife (being unhappy] and there's question marks about Fernando Torres and Steven Gerrard. They've got to be sorted out asap."
---
JUNE 30
Hodgson is the new
Liverpool FC manager

By Dominic King - Liverpool Echo

Roy Hodgson will be officially named Liverpool FC's new manager today (Wednesday).

The 62-year-old is due on Merseyside to complete the formalities of signing a contract after the Reds agreed a compensation package in the region of £2million with Fulham for his release.

Cordial negotiations have been ongoing in the past 72 hours between Liverpool's Managing Director Christian Purslow and Fulham Chief Executive Alastair Mackintosh and they have now reached a successful conclusion.

Though Liverpool – who have remained tight-lipped throughout their search to replace Rafa Benitez – were linked with a clutch of names, Hodgson was always the number one candidate.

Other names in the frame included former Real Madrid boss Manuel Pellegrini, Galatasary's Frank Rijkaard and Didier Deschamps of Marseille, while Kenny Dalglish also made it clear he was desperate to take the job on.

Dalglish had initially been named as part of the recruitment process but he was desperate to have a second crack at the post he occupied between 1985 and 1991 when he felt his claims were as strong as the other candidates.

The board, though, were anxious to pursue Hodgson and Liverpool will be his 16th job in a managerial career that has spanned almost 35 years.

His first post was with Swedish side Halmstads in 1976 and he enjoyed instant success, leading them to two Swedish titles; he would later coach Malmo after a brief stint with Bristol City.

Success in charge of the Swiss national team led to him being appointed Inter Milan manager in 1995 and the highlight of his time at the San Siro was an appearance in the 1997 UEFA Cup final appearance, which they lost on penalties to Schalke 04.

Hodgson's first crack at the Premier League came later that year, when he took over at Blackburn, but things did not go according to plan at Ewood Park – despite qualifying for Europe, he was sacked in December 1998.

Stints with Udinese, the United Arab Emirates, Viking Stavanger and Finland followed before Fulham turned to him in December 2007 and he successfully led their battle to avoid the drop, which they did thanks to a last day with at Portsmouth.

After that, his time at Craven Cottage went from strength to strength and he enhanced his reputation while transforming Fulham's fortunes, guiding them to their highest Premier League finish and an appearance in the Europa League final.

Now he has a fresh challenge and Hodgson, the LMA's current Manager of the Year, will meet those Liverpool players who have not been at the World Cup tomorrow when they return for pre-season training.

It had been mooted that Hodgson, who is expected to bring his trusted assistant Mike Kelly with him to Anfield, would be favourite to become England manager if the Football Association decided to sack Fabio Capello.

However, it is understood the delay in Hodgson being appointed to his new role had nothing to do with him waiting to see what happened with England.

One of Hodgson's first jobs at Anfield will be to ratify Yossi Benayoun's move to Chelsea after the clubs agreed a fee in the region of £6m for the Israeli midfielder.
---

Thor Zakariassen ©