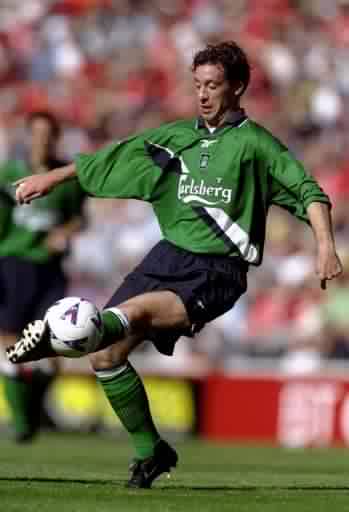 Born: Liverpool 9.4. 1975
Signed: April 1992
Honours: League Cup 94/95, Worthington Cup 00/01,
FA Cup 00/01, UEFA Cup 00/01
Other clubs: Leeds, Manchester City, Cardiff, Blackburn,
North Queensland Fury, Perth Glory

Click here to read more Fowler news
Striker Robbie Fowler burst onto the Anfield scene in September 1993 when he scored all five goals against Fulham in a League Cup match. Subsequently the Liverpool born front man made a name for himself as the best finisher in English football.

Having scored eighteen league goals in his debut season, he then became the first Liverpool player for six years to pass the thirty goal mark the following year. He repeated that amazing feat in season 1995-96, during which time he made his much anticipated England debut against Croatia.

He passed the thirty goal mark for the third consecutive season the following year which led to many pundits predicting he would go on to break all the goalscoring records. Disappointment wasn't too far away though and a knee injury against Everton in the 1998/99 season sidelined him for many months, although his rehabilitation was completed well ahead of medical estimates.

The 1998/99 season was a mixed one for Fowler with his eighteen goals being largely overshadowed by events off the field which led him to sit out a six match ban at the end of the campaign. Having put pen to paper on a new Anfield deal, and having distanced himself from speculation he could be on his way out of Anfield, Fowler seemed ready, willing and able to silence his critics with another goal feast during the 1999/2000 season.

The manager showed great confidence and faith in Fowler by sticking by him through the bad times of the 1998/99 season and then appointing him vice captain of the side. A wiser and more mature Robbie Fowler then expressed his desire to let his football do the talking - a proposition to terrify opposing defences. However, a series of injury problems culminating in an operation to remove a spur on his ankle bone at the start of the 1999/2000 season were to give those defences some brief respite. (LFC Official Website)

1986
Plays for Liverpool boys as an 11-year-old.

1992
Signs as a trainee for Liverpool.

1993
Plays for England in the UEFA Youth Cup. Makes League debut in 1-0 defeat at Chelsea on September 25. Scores all five goals in Liverpool's 5-0 victory over Fulham in the Coca-Cola Cup.

1994
May: Finishes the 1993-94 season with a tally of 18 goals in 34 appearances, despite being sidelined for two months with a broken leg. Stars as England Under-21 team wins annual international tournament in Toulon, France.
Dec. 26: Fans at Leicester complain to police that Fowler hitched up his shorts during Liverpool's 2-1 win at Filbert Street on Boxing Day. He is later fined £1,000 by the FA for his conduct.

1995
Voted PFA Young Player of the Year and scores 31 goals in all competitions for Liverpool. Collects League Cup winners' medal as Liverpool beat Bolton 2-1 in the Coca-Cola Cup final.
Sep: Suffers nose injury in bust-up with Neil Ruddock, who claimed his expensive shoes had been vandalised on return flight following Liverpool's 2-1 UEFA Cup defeat of Spartak Vladikavkaz in Russia.

1996
Mar: Makes full England debut as a substitute in 1-0 friendly win over Bulgaria at Wembley.
May: Voted PFA Young Player of the Year for a second successive season.
Finishes season with a tally of 35 goals scored from 53 appearances, but on losing side as Liverpool are beaten 1-0 by double winners Manchester United in the FA Cup final.

1997
Mar: Receives worldwide praise for sportsmanlike gesture when he tries to persuade referee Gerald Ashby not to award penalty when felled by Arsenal goalkeeper David Seaman. The following day, is fined £900 by UEFA for wearing T-shirt supporting striking Liverpool dockers in Liverpool's Cup Winners' Cup victory over SK Brann from Bergen (Norway).
Apr: Sent off along with David Unsworth after clashing with the Everton defender in Merseyside derby.
Nov: Scores for England in 2-0 friendly victory over Cameroon at Wembley.

1998
Feb: Suffers serious knee injury in challenge with Everton goalkeeper Thomas Myhre and misses rest of the season and World Cup.
1999
Apr. 3: Liverpool-Everton 3-2. It was Fowlers celebrating action after his 15 minute penalty equaliser which got the headlines. Fowler kneeled down and pretended to "sniff" the white lines of the penalty box - right in front of the Everton supporters. They were incensed and the police had to move in to restore order.
Apr. 9: Robbie Fowler was today banned for six matches by the FA and handed a record £32,000 fine for his two misconduct charges. He received a 4-match suspension for his Everton goal celebrations and a 2-game ban for the Le Saux incident.
Jun. 11: Robbie Fowler last night quashed all rumours he is set to leave Anfield by passionately pledging his future to the club. Fowler flew back from England duty for clear-the-air talks with manager Gerard Houllier to stamp out reports he was unhappy at Liverpool.
Aug. 5: Liverpool striker and vice-captain Robbie Fowler will insist he does not take drugs in a national television interview to be screened this evening. The controversial footballer will tell celebrity interviewer Martin Bashir that he believes "jealous people" have started the rumours about drug taking which have dogged his career. He also says he regrets his clash with Chelsea star Graeme Le Saux last season and pretending to snort the goal line at the Anfield derby.
On the ITV programme Tonight with Trevor McDonald, he denies taking drugs. He says: "You play football and people think you're stupid enough. I know certain players have done it in the past." He added: "If you get caught, the club will throw you out. If you're stupid enough to do these things the club'll know about it. "If I or anyone was to be big on drugs I'm sure, you know, it'd been in the papers by now."
Aug. 27: Our congratulations go out to Robbie Fowler and his wife to be, Kerry, on the birth of their baby daughter.
Sep. 29: Fowler is set to discover today whether he requires surgery on his troublesome ankle injury which could force him onto the sidelines for upto six weeks.
The striker is sweating on the outcome of a meeting with Liverpool's medical staff after limping out of Monday's derby defeat against Everton.
Oct. 1: Fowler will enter hospital on Saturday for an operation on his right ankle that could rule him out for up to 8 weeks.
Oct. 5: Fowler will begin his long road back to recovery tomorrow after his operation was declared 'successful' by boss Gerard Houllier.
Dec. 28: Substitute Fowler scored Anfield's last goal this Millennium and his 150th Reds goal when LFC beat Wimbledon 3-1. But unfortunately the injury flared up again.
2000
Jan. 13: Robbie Fowler has been told by a specialist that he need further surgery on his ankle. He will be out of action for up to two months. The Liverpool striker has been steadily making progress on the ankle, having been plagued with the injury for much of the season.
Jan. 18: Robbie Fowler undergoes his second ankle operation in London this lunchtime.
Mar. 6: Gerard Houllier strengthened fears that Robbie Fowler will be struggling for match fitness ahead of the European Championships by revealing that he will not be back until mid-April at the earliest. Fowler, who has not started a game since September 27, has been bedevilled by an ankle injury which has twice required surgery. And it is now clear that he needs at least another six weeks – and probably longer – before he can even think about easing himself back into action.
Apr. 11: Fowler made a successful comeback when he played in the reserve match against Bradford. Reds won 2-0. Robbie was substituted early in the second half. He looked lively during his time on the field and could now be on course to figure in the first team squad at Everton on Good Friday.
Apr. 17: Robbie Fowler scored his first goal for almost four months on Monday night and put himself in line for a Liverpool comeback in Good Friday's derby battle at Everton. Robbie is fighting for full fitness after two ankle operations. The last goal he scored was as a substitute in the 3-1 Anfield victory on Boxing Day against Wimbledon.
Apr. 21: Fowler played the second half in a goalless derby at Goodison Park. "I was pleased to make my comeback. To start talking of Euro 2000 is much too early. I need more games but it is just great to be back," he said.
May 31: Scored the opener and played exellent when England won 2-0 against Ukraine
at Wembley. And Robbie is ready for Euro 2000 !
Jun: Selected for Kevin Keegan's Euro 2000 squad, but does not play as England fail to impress in the Low Countries.
Aug: Takes over as Liverpool skipper in the absence of long-term injury victim Jamie Redknapp, only to suffer more injury woe when he was carried off during the first half of the 4-0 Carlsberg Belfast Challenge success over Irish Cup winners Glentoran.
Sep: 20: Scores five times in a reserve win over Bradford.
Sep: 28: Named in starting Liverpool line-up against Rapid Bucharest in the UEFA Cup.
Nov. 29: Scores a hat-trick in the 8-0 Worthington Cup win at Stoke.
Dec: Houllier admits he may be willing to offload Fowler. "All players have their price. Robbie is not on the transfer list, but we look at all our players and assess things when it suits us." Reports claim Liverpool turned down a £12million bid from Premiership rivals Chelsea. Fowler, though, declared he wanted to stay at Liverpool and fight for his place in the starting line-up.
2001
Jan: Fowler attacked during a night out in Liverpool city centre.
Jan. 12: Liverpool turn down a £12million bid from Aston Villa. Fowler pledges to knuckle down and work harder at Anfield. Skippers Liverpool as the Reds book their place in the Worthington Cup final with victory over Crystal Palace.
Feb. 25: Scores as Liverpool beat Birmingham to win the Worthington Cup at the Millennium Stadium in Cardiff.
Apr. 8: Scores what proves to be the late winner against Wycombe in the FA Cup semi-final.
May 12: Leads Liverpool to victory in the FA Cup final over Arsenal in Cardiff.
May 16: On target in the UEFA Cup final win over Alaves in Dortmund.
May 19: Scores twice in the final game of the Premiership season as Liverpool win 4-0 at Charlton.
May 25: Nets for England in 4-0 win over Mexico at Pride Park.
Aug: Involved in training ground bust-up with assistant boss Phil Thompson which results in him being dropped for the Charity Shield and has to make a public apology before he plays again. Scores as Liverpool beat Haka 4-1 at Anfield to secure their place in the Champions League.
Sep: Finds the net in England's 2-0 win over Albania in the World Cup qualifier at St James' Park. Left on the bench for the Champions League clash against Dynamo Kiev, despite the Reds being without the injured Michael Owen.
Oct. 6: Starts the game as England clinch their place in the World Cup finals with a last-gasp 2-2 draw against Greece at Old Trafford.
Oct. 20: Fires a hat-trick in Liverpool's 4-1 Premiership win at Leicester.
Nov: 27: Liverpool confirm they have agreed a fee with Premiership rivals Leeds for the England striker, believed to be in the region of £11million.
Nov. 28: Fowler agrees personal terms on a contract which will keep him at the Yorkshire club until 2006.
Nov. 29: Completes move to Leeds after undergoing a stringent medical at Elland Road.
Dec: Fails to score in his first two games for Leeds against Fulham and Blackburn, and is booked for diving against Rovers.
Dec. 11: Released without charge by police after being arrested in relation to an alleged incident in Leeds.
Dec. 19: Nets first goal for club - and follows up with another in 3-2 defeat of Everton at Elland Road.
Dec. 26: Scores a hat-trick in 3-0 win at Bolton.

2002
Mar: Nets at Leicester again - his 13th goal in 15 games.
May: Scores in 2-2 World Cup warm-up clash with Cameroon.
Jun: Heads to Far East with England World Cup squad and plays a part in England's 3-0 second round defeat of Denmark.
Dec: Opens goal account for the club with strike at Bolton and penalty decider at Sunderland.

2003
Jan. 13: Leeds agree fee with Manchester City "in the region of £7million" for Fowler.
Jan. 14: Robbie Fowler will undergo a medical on Wednesday after agreeing personal terms on his £7m move from Leeds.
Jan. 16: Robbie Fowler's move to Manchester City has collapsed after the Leeds striker turned down the move, according to his agent.
Jan. 29: Tomorrow Robbie Fowler will sign for Manchester City. And that's it!
Mar. 16: Robbie matchwinner for Manchester City when he scores his first goal for his new club. And City beat Birmingham 1-0.

2006
Jan. 27: God is back - where he belongs. From Manchester City on loan for rest of the season.
May 5: Robbie being offered a 12-month extension with Liverpool.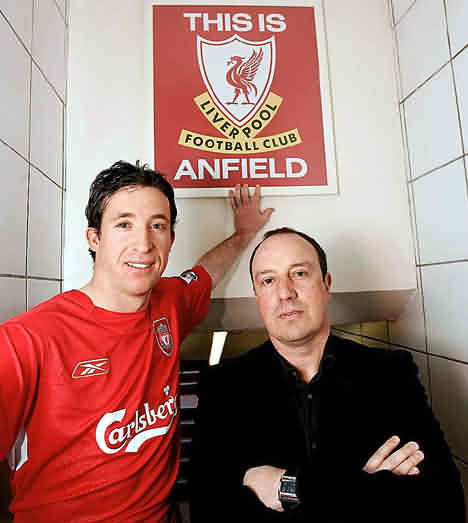 2007
May 11: The striker has been told his contract won't be renewed at the end of the season, which means his appearance at Anfield on Sunday (v Charlton) will be his last in a red shirt.
May 13: Robbie playing his last match for Liverpool at Anfield - draw 2-2 against Charlton.
The skipper leaves the pitch two minutes before full time.
July 21: Robbie has agreed a two-year contract with Coca-Cola Championship side Cardiff.

2008
Sep. 10: Robbie joines Blackburn Rovers on a 3 month contract.

2009
Feb. 4: Robbie has signed a two-year deal with Australian outfit North Queensland Fury. The 33-year-old striker was a free agent after leaving Blackburn Rovers in December and will join up with Fury for their debut season in the Hyundai A-League, which is scheduled to start in July.

2010
April 28: Robbie will play for A-League club Perth Glory from next season.
The 35-year-old will be Perth's foreign marquee player, which means his wages are excluded from their salary cap.
---

Thor Zakariassen ©