---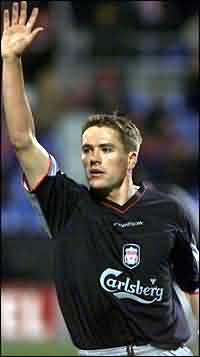 OCTOBER 22
Houllier hails Owen

By PA Sport Staff

Gerard Houllier hailed his "special star" in Michael Owen after the England hot-shot bagged a crucial hat-trick in the freezing Russian capital.

Owen, rested on Saturday when Liverpool went top of the Premiership, had Liverpool on top of the world with an excellent Champions League treble.

The Liverpool chief said: "Michael deserves special credit for his hat- trick, to do that away from home in Europe is a special achievement.

"I remember that a couple of months ago Michael was getting all sorts of stick for not scoring goals. Now he's done it for us and England. Owen - tripple-hero in Moscow. (Photo: Reuters)

"I rested him because that game for England in Bratislava was on a very heavy pitch and took a lot out of him.

"But when I bring him back I know he is the one to score the important goals on big occasions.

"I knew Leeds would be a hard game for him and he had played seven matches on the trot, so it was right to rest him. Now we have a run of home games and we can push ahead on all fronts."

Liverpool now have seven points in Group B, not enough to be sure of reaching the last 16.

But Houllier said: "I told the boys before the game that we have to depend on ourselves, if we need 13 points now to qualify we will go and get them against Valencia and Basle."

Houllier also explained that he took off Emile Heskey, not because the big striker had suffered a recurrence of his groin injury, but because he was being cautious and not risking any further trouble with the hitman who had started to feel sore

And the rapid withdrawal of Gregory Vignal was also explained by Houllier.

He said: "We needed more height. I knew when we went 2-1 up that they would throw the long ball in so I wanted Igor Biscan out there for his height."

---
OCTOBER 22
Hat-trick hero

By Paul Walker - PA Sport, Moscow

Michael Owen saved England in the swamp of Bratislava and was again the salvation of Liverpool in Moscow.

The Liverpool marksman beat freezing conditions to clearly show he has the upper hand against the footballers of Eastern Europe.

Liverpool had been given a much tougher examination than they probably expected in this crucial Group B clash, but it was Owen's predatory instinct that proved decisive.

Owen managed a hat-trick in the the qualifying round of the Champions League against Haka last season, but this was the first he has managed in the competition proper.

Liverpool are now the first English side to ever beat Spartak in their own back yard, and the result gives them a great chance of reaching the last 16 of the competition.
While all the talk on Merseyside this week has been about the wonder of Wayne Rooney, it was Owen - the player many feel Rooney will one day emulate - who let it be known he is not moving over just yet.

No Steven Gerrard, but Liverpool boss Gerard Houllier had Emile Heskey fit following his groin injury, at least for the first hour.

Houllier paired Owen - rested for Saturday's 1-0 win at Leeds - with Milan Baros and used Senegal star Salif Diao in midfield.

Moscow axed veteran keeper Stainslav Cherchessov from the side that lost 5 0 at Anfield and replaced him with Ukraine number one Maxym Levitsky.

Spartak, ridiculed for their lacklustre display in this season's Champions League, showed pace and desire from the start.

Yuri Kovtun was never more than a couple of feet away from Owen, until the Russian World Cup man's hamstring injury eventually got the better of him.

Early enterprise down the right from Alexander Pavlenko caused Liverpool some trouble, and only greater accuracy with the final crosses denied Moscow a better end product.

Temperatures were well below freezing, but at least Liverpool were spared the snow and howling wind that they found when they trained 24 hours earlier.

But Liverpool should have scored when a Danny Murphy corner reached Baros in the six yard box, but his stabbed effort was saved on his line by the alert Levitsky.

On 21 minutes Alexander Danishevski created a chance for Alexander Sonin to hook over, but Baros should have scored again a minute later.

Owen worked his way down the left and laid the ball back to the edge of the area where an unmarked Baros raced in to drill a low shot wide of goal when he should have hit the target.

Sixty seconds later Liverpool were to rue that miss when Spartak took the lead, their first goal in the competition this season after three straight defeats.

Heskey's weak header back in his box allowed Pavlenko to control and move the ball square to Danishevski who moved a yard further goalwards before lashing a shot into the roof of the net.

The lead lasted only until Owen got his first Champions League goal this season.

Jamie Carragher surged down the right into acres of space and lifted a centre into the box where Owen was quickest to see the opportunity and nipped in to head a firm effort past Levitsky on the half hour.

Maksym Kalynychenko was booked for a foul on Dietmar Hamann on 32 minutes.

Dmitri Khlestov's hack at Baros soon after was also worthy of caution, but was treated with just a warning from Austrian referee Konrad Plautz.

He still did not get booked after sending Heskey spinning minutes later.

The marking of Owen had disintegrated again and on 40 minutes only a timely interception by Valeri Abramidze stopped a Murphy ball reaching Owen on the left of the box without a player within 20 yards of him.

Liverpool came out after the break intent of taking the initiative and, after just two minutes, Murphy's corner was only half cleared and John Arne Riise fired over from the edge of the box.

Moscow were looking for more than a draw with qualification for the UEFA Cup very much on their minds.

Artem Bezrodny lashed in a cross that Sami Hyypia headed away under pressure.

But a minute later Owen was sent partially clear. He had two defenders closing in tightly but got a yard on them both to fire in a shot that Levitsky half stopped, Owen just failing to stay on his feet long enough to regain possession.

Heskey was taken off after 55 minutes to be replaced by Gregory Vignal, the big England man clearly still suffering from his injury.

Dudek had to be at his best to block a Danishevski effort at his near post.

The referee seemed unwilling to penalise tackles from behind and again failed to act when Igor Mitreski clattered through the back of Baros.

Liverpool had found themselves stretched alarmingly at times, but then Owen popped up with another goal.

Murphy's free-kick curled in from the left to Hyypia to power in a header which was deflected onto the bar.

The ball bounced down for the Finn to have another stab but the ball broke to Owen, a yard out, to lash home.

Before the restart El Hadji Diouf took over from Baros.

Finally referee Plautz did get out his book and caution Khlestov for another tackle from behind, this time on Owen.

Liverpool then had to withdraw substitute Vignal on 76 minutes, Igor Biscan taking over.

Murphy's interception gave Owen the chance to cross for Diouf, and it took a timely block from Khlestov to avoid another goal.

But it came on 89 minutes when Murphy's run down the right from a Diouf ball ended with a neat cross into the six yard box for Owen to slip home his third.

---